Panthers stop Cards
Eudora's comeback falls short by four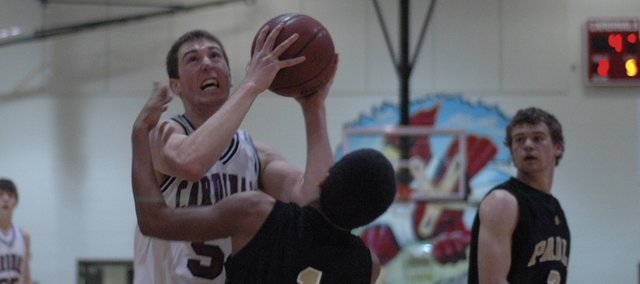 In the end, the Paola Panthers had one more run in them than did the Eudora Cardinals.
In a game that featured runs all night long, Paola outscored Eudora by seven in the decisive final period and knocked off the Cardinals, 49-45, last Friday night at Eudora.
"We dug ourselves a hole to start both halves and that really kind of killed us," Eudora coach Kyle Deterding said.
Eudora had a three-point lead heading into the fourth quarter, but Paola opened with a 9-1 run to take the lead at 45-40 with four minutes to play. Paola then ran about a minute off the clock before turning the ball over on a bad pass. But Eudora couldn't convert on the ensuing possession, and Paola hit two free throws to push the lead to 47-40 with 2:50 to play.
Justin Ballock hit a field goal from the left wing and then sank two free throws to cut the lead to three with less than two minutes remaining. After two missed Paola free throws, Eudora had a chance to draw closer, and Brian Katzfey hit one of two free throws. Eudora again had to foul and Paola hit both charities. Eudora answered right back, as Katzfey drove into the lane and hit a layup with 26 ticks on the clock, but he was called for charging. The basket was wiped out, and Paola escaped with the win.
"We worked really hard to get back in that thing and took the lead — I don't know what it was — but then it's tough when you use that much energy to get back in the game. We just dug ourselves too big of a hole to hang onto that thing," Deterding said.
Eudora trailed by seven early in the first quarter but came back and retook the lead in the second period and led 24-19 at the half. But Paola opened the second half with a 9-0 spurt in just 90 seconds and led 33-26.
After a Eudora timeout, the Cardinals punched back with a 13-3 run to close out the third with a 39-36 lead on a layup by Michael Bricker. Guard Kyle Swanson dribbled in from the left baseline and dished to Bricker who cut to the basket as time ran out. The Cardinals had the lead and momentum. The home crowd, which was predominantly dressed in white Eudora T-shirts, cheered wildly. But Eudora didn't close out the game, and Paola did.
"It was intense," said Bricker, who scored eight points for Eudora. "We were down by seven to start the first off, and we battled back and came back. That's kind of how the whole game was. Paola, they're pretty equal with us and it was just a battle the whole time."
Ballock led Eudora with nine points, Katzfey and Cody Carlson scored eight a piece, and Bryan Dudley scored five to lead the Cardinals in scoring. After starting the year, 8-1, the loss was Eudora's fourth in a row. Dudley said the team wasn't as patient as it could have been down the stretch against Paola.
"We just lost what everyone was going for and working the ball around," Dudley said. "We were getting too impatient, and we've just got to stick to our game."
Eudora played Metro Academy Tuesday night at home and won 72-42. Bricker scored 23 and Ballock had 17 to lead Eudora. Next up for the Cardinals (9-5) is a home game Friday night against league foe Louisburg.