Back on top
Girls beat Louisburg 50-33, end losing streak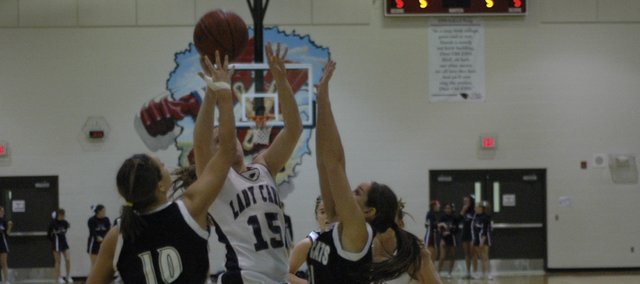 After losing four in a row, Eudora girls basketball coach Ryan Luke had a stern message to his team during practice last week. He wasn't talking about just beating Louisburg. He was talking about making it to state.
"It was almost like he was saying, 'Are you going to be successful this year? And I challenge you to be successful.'" Eudora senior Kendal Abel said. "And it really got us going and got us thinking. And we decided that it was time to get it going."
The girls got the message and then whipped Louisburg, 50-33, last Thursday at Eudora.
"We really wanted to prove to everybody and not just him that we could do it and step up and together we could go all the way," Abel said.
Eudora started the game slow and trailed at the end of the first quarter 12-6 and was down 19-18 at the half. But a 32-14 second half surge had the Cardinals back in the win column for the first time since they beat Silver Lake in the Tonganoxie Invitational on Jan. 23.
"We needed that win," Luke said. "I thought we played extremely hard and
we did the little things that we had to do and we fought the whole game. We had our times where we didn't play well during the game, but we turned it on and were very aggressive offensively. And I think that was the difference in the game."
The past few games, Eudora senior Haley Epperson was constantly double-teamed, and Luke had been waiting for someone to step up offensively. He got just that against Louisburg as Bailey Scott and Abel both scored 12 points and hit two three-pointers. Epperson scored 11 and Rachel Pyle added 10 points, eight of those coming from the foul line. Eudora had struggled a little shooting free throws during the four-game skid.
"That bugs me a lot," Pyle said. "It's a free shot, and if I miss it, it bugs me. So I've been working on that the past couple weeks and it paid off. So I was happy about that."
Eudora also got a solid outing from Shea Lounsbury who came off the bench. Though she didn't score in the game, she hustled and battled on the boards.
"Shea played awesome on defense," Luke said. "She fought like crazy. We had people step up and hit some shots, and that's important because if we're just depending on one player to win us all the rest of our games, it's not going to happen. Haley's a great player, and the better the people are around her, that's going to make her better, too. And I thought we had that tonight."
Eudora's second half scoring punch was a result of beating Louisburg's pressure. Louisburg pressed much of the game, and Eudora used quick passes to beat the press. On inbounds plays, Eudora also threw a couple home run passes deep past the halfcourt line to set up fast-break opportunities.
"We're a fast team," Pyle said. "We're one of the fastest in the league. So that's always our game plan but especially against them (Louisburg) we knew if we ran it we'd be fine."
Luke said he thought his team, which starts five seniors, would bounce back from that four-game losing skid. It was only a matter of time.
"Those kids want to win as bad as anybody," Luke said. "They want to win more than I do. So they're not going to let a few losses affect how they finish the season. And that's how they played tonight."
Eudora's road contest at Atchison, which was originally scheduled for Tuesday night, has been rescheduled for Monday at Atchison. So next up for the Cardinals (10-5) is a road contest Friday night at Gardner.