Cards sweep triangular, ready for league meet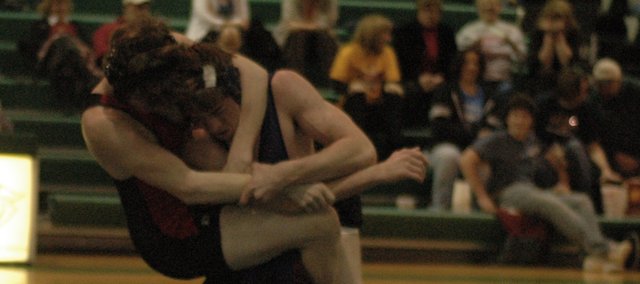 Ask any coach of any sport what's a good indicator of how a game will play out and he or she will often say the warm-up.
After all, athletes play the way they practice.
So last Thursday's triangular with Anderson County and De Soto was, for the Eudora Cardinals, essentially a tune-up for this weekends' league tournament at Spring Hill.
While the team garnered the desired results – two lopsided victories over Anderson County and De Soto – coach Bill DeWitt said he wasn't completely satisfied with the team's performance.
"Yes, we won both of them, but I wasn't real happy with our focus," he said. "I didn't think our intensity was very good. I was happy to win the duals, though."
Winning the duals was never really in doubt, as the Cardinals smoked Anderson County – who DeWitt said was down a bit in comparison to previous years – 58-15. Jackson Wiley won with a pin over his opponent at the 125-pound weight class and Dalton Hladky had another strong performance. He pinned his opponents in both duals at 135. Both pins came in the first round of the matches.
DeWitt said he was particularly pleased with Wiley because he set a strong example for the rest of the squad.
"Jackson Wiley had a good night," DeWitt said. "I thought he brought a good amount of intensity. That's nice, something you definitely want to see out of your senior. I don't want to fault anyone else's effort, but he wrestled well."
Boomer Mays and Caleb Clayton-Molby also turned in victorious performances for the Cardinals in the heavyweight divisions, as both registered wins in the 215 and 189-pound weight classes.
But overall, DeWitt believes his team can never overlook an opponent again in order to achieve its goals for the postseason.
"I think De Soto actually out-wrestled us in a lot of areas," he said. "I think as we get further in the season we need to realize we're not a program that can walk out onto the mat and expect people to lie down. We need to have the same approach to every match."
One thing that could prove problematic for the Cardinals is that their final dual of the season will be squeezed in Thursday at Paola with the league meet just two days later.
DeWitt said he expected the team to be fine, however, despite the final regular season matches being so close to the league tournament.
"We'll try to shorten practices and keep them fresh before regionals," he said. "We'll probably mix up the lineup a little bit and make sure all the seniors get to wrestle."