Coffee Talk named 2008 business of year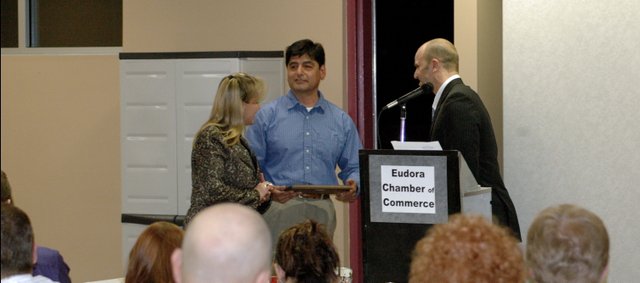 There was a look of frozen shock on the faces of Coffee Talk owners David and DeeAnn Alvarez Saturday night when they were named the Eudora Chamber of Commerce's Business of the Year for 2008.
"We were surprised and not expecting it at all," DeeAnn said.
Chamber President Doug Mateo recognized them for their efforts to organize the past summer's Music in the Park as well as the concerts at Coffee Talk on Saturday nights.
The couple opened up the coffee house and art gallery, located at 724 Main St., in October of 2007 because they
didn't see anyplace like it in Eudora.
"We thought it filled a void because there are a lot of people in Eudora who would like to grab a cup of coffee in a smoke-free atmosphere," David said.
They then began having free concerts every Saturday night in an effort to give Eudorans something to do without having to leave town and spend a lot of money.
"We've got some other people who have started doing that also, and I think it's great," Alvarez said. "It looks like the town is alive and going in the right direction."
David and DeeAnn were especially surprised because, as with any new business, they have struggled at times. But they said money wasn't the only compensation they have received.
"The last year and a half has been a real eye opening experience for us," DeeAnn said. "We've been rewarded in lots of different ways, but it's also been a struggle to stay above water. What has kept us going is the emotional reward we get out of doing this."
The couple has enjoyed their interactions with members of the community and already have plans in the works for more chamber activities at the park, and possibly a poker tournament.
"Being named a business of the year isn't exactly about the bottom line, I guess," David said. "We were humbled and it was really great to get it.
"It makes us want to try harder to be looked upon as a good business and someone who works with other people and wants to see the whole town and every business do well."