Sluggish second half dooms Cardinals, 60-43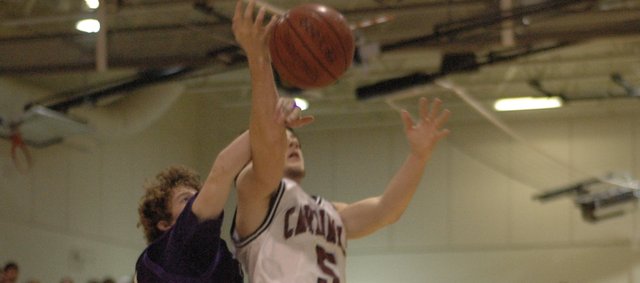 The Eudora boys scored as many points in the second half – 17 – as Louisburg did in the first seven minutes of the third quarter. Eudora coach Kyle Deterding had a simple enough explanation.
"In the third quarter we just didn't get many shots and we gave them a lot easy ones," he said. "We've got to find a way to buckle down on the defensive end much better than we did."
Eudora had too many turnovers and missed shots in the second half, and coupled with Louisburg's 41-point second half, the Cardinals were run out of their own gym and lost, 60-43, last Friday at Eudora.
Eudora blew an 11-point first quarter lead, a seven-point halftime lead and a three-point lead heading into the final period. The Cardinals were outscored 41-17 in the second half, and many of Louisburg's points came from the interior. Louisburg post player Kyle Nauman led all scorers with 17 points. He hit seven field goals and made three free throws.
"We knew going in that they were one of the most physical teams in the league," Deterding said of Louisburg. "And we said that you've got to block out all five guys. The first half we did a pretty good job. The second half they (Louisburg) kept a lot of them alive and ended up getting buckets or and-ones. A lot of bad things happened when we kept giving them two or three shots."
Eudora was also in foul trouble and committed 14 fouls in the second half. Louisburg pressed most of the game, but in the third quarter Eudora had trouble beating the press. And when Eudora had some open shots the ball wouldn't go down.
"We had some good looks that we didn't make, but we just didn't get enough shots," Deterding said. "We had way, way too many turnovers. I did a poor job. We thought we were ready to go against their press, but we did a poor job handling their press and we turned it over a bunch. And when you're not making shots, you better at least get a lot of them and we didn't get a lot of them. We kept turning it over."
In the third quarter, Eudora scored just 11 points, eight of those coming on four field goals by Justin Ballock. Ballock led Eudora with 16 points in the game. The only other Cardinal to score during the third was Brian Katzfey. He hit three free throws.
In the fourth quarter, Eudora made just two field goals and went 2-for-8 from the free-throw line. Eudora senior Michael Bricker scored five points and had six rebounds in limited action because he was saddled with foul trouble. Eudora has now lost five of its last six games.
"It's kind of a letdown," Bricker said of the losing skid and the loss to Louisburg. "I didn't help my team by getting some fouls and having to sit most of the game. We were strong in the first half and we were up. And then we came out and had a hard time starting out that second half. So, I mean, it's just kind of sad."
Bricker said defending against Louisburg's big guys was a tough task because of Louisburg's athleticism.
"They were working us over," Bricker said. "They were physical in the post and they were just pushing us around. But all you have to do is work and get around them and then it wasn't a problem. But our help side defense wasn't very good either."
Eudora's Tuesday night game at Atchison was rescheduled for this Monday night at Atchison. So next up for Eudora (9-6) is a league contest Friday at Gardner.
Deterding said his team would have to get over the loss to Louisburg and be ready for Gardner or the end result could be the same. He also said he was looking for his veterans to provide more leadership.
"It's the best team in the league," Deterding said of Gardner. "So we're going to have to come out and play really well."
And Bricker agreed with the coach.
"If you take a look at tonight, if we come out and play like we did in the second half, we're just going to get stomped," Bricker said. "We've got to work all through next week and come out and be aggressive against them. And hopefully it'll be a good game and we'll pull a win out."