5 questions: Eudora Middle School names teacher of the year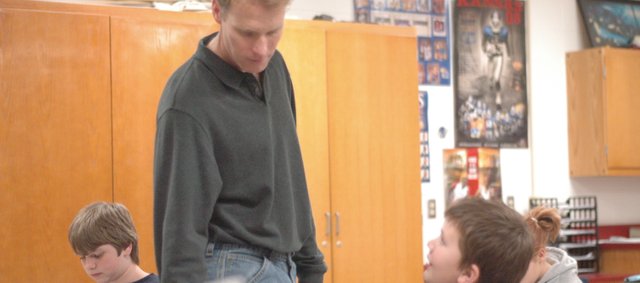 Joe Pickett, science instructor at Eudora Middle School, has been named EMS Teacher of the Year.
His teaching career began in 1998 with the Eudora School District. He also coaches high school track and has coached football and basketball at EMS.
He is married to Eudora High School English instructor Shannon Pickett and they have two children, 4-year-old Josie and 3-month-old Brett.
Q: What was your response to winning the award?
A: It's flattering and humbling, as well. I never really enjoy being the center of attention in a staff meeting like that, but it does feel good. It's good to get positive feedback in your job because it keeps you motivated and charged up.
Q: What made you want to be a teacher?
A: My dad was a teacher at Edson High School in Edson, and when I was a kid he got me outside a lot and created an interest in the outdoors and nature.
And sitting in classes when I was in high school and college, I always had a thought that it would be fun to teach. Coaching was always a thought, too.
Q: How important is it for you to be interested in your subject manner?
A: When you have a real interest in something, it becomes interesting to the kids more naturally.
Q: What are your favorite parts of teaching?
A: Definitely the positive interactions you have with kids. Those always are good and when they happen that always feels nice. I also enjoy the challenge of developing lessons that hopefully will be engaging and fun for the kids.
Q: You're 10 years into teaching. Are you still learning new things each day?
A: Absolutely. Through collaboration and working with Dan Kuhlman, who has really been a mentor to me throughout my teaching, I get a lot of opportunities to learn and talk about things.
And then during collaboration within our subject areas we're always trying to come up with better ideas and ways to do things. That's one thing I think I've been pretty good at is taking ideas — you could probably call it stealing — from other teachers. And of course, you learn from kids too.