Cards run out of time in 43-39 loss to Gardner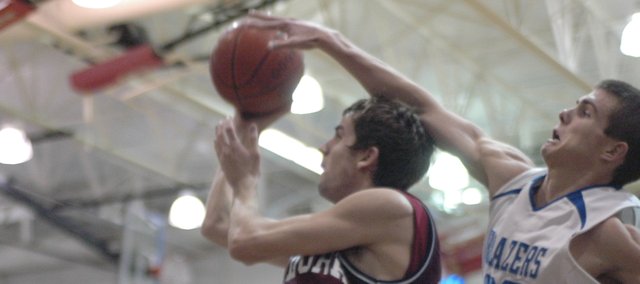 Having just 5.8 seconds isn't much time to dribble down court and put up a last-second shot. Eudora found that out in the closing seconds of its 43-39 loss Friday at Gardner.
Down by two, Evan Cleveland took the inbounds pass and sprinted up court. As he crossed the half-court line, he looked to get the ball to Justin Ballock on the wing for a three to win the game. But a Gardner player came in and poked the ball away. Gardner passed the ball down court and Bubba Starling threw down a two-handed dunk after the buzzer sounded. The dunk counted, and Eudora lost by four.
"With five seconds to go, there's not much you can do," Eudora coach Kyle Deterding said. "You've just got to push that thing up the floor and we had a couple options. And that same kid (Starling) made another play and anticipated and got it."
A close game throughout, Gardner eventually pulled ahead by eight with less than four minutes to play in the game. But Eudora came back on free throws by Cody Carlson and Michael Bricker and three late field goals by Ballock.
Ballock's jumper with :17 to go tied the score at 39. On the ensuing possession, Gardner called a timeout with 11.8 seconds left, and hit the game-winner on a spinning, turnaround jumper by Starling with 5.8 left.
Though, Gardner scored the last two field goals of the game, Eudora's defense held Gardner scoreless from the 3:55 mark until Starling's shot with 5.8 to play.
"We competed well," Deterding said. "I was really proud of our effort. We finally decided to buckle down on the defensive end. We still gave them a couple run-outs, but we at least made them earn most of the points the got.
"Our defense probably for the first time in a while kept us in that thing. And it was right down to the wire and we had a shot at it. That's about all you can ask for on the road against a good team. Had a kid who just made a couple big plays at the end."
Starling scored 15 for the Blazers and also played tough defense. Starling guarded Ballock most of the game and held the Eudora junior to just two points in the first half. Ballock heated up in the second half and scored 11 points.
"That's an all-state kid guarding him," Deterding said. "Justin worked for everything he got. That kid's an animal."
Ballock also drew the task of guarding Starling on defense for the Cardinals.
"He's athletic and strong," Ballock said. "I had to work hard to try and stop him."
Eudora's interior did a decent job against Gardner's, but foul trouble hurt the Cardinals late. Carlson, who scored nine points before fouling out, gave Eudora a lift in the second half with two consecutive field goals, both coming off offensive rebounds. Michael Bricker also came up with big rebounds late and scored nine points in the game.
Eudora, as it has all season, used some crisp high-post passing to score easy field goals inside.
"We just looked in there and that opens things outside for our other guys," Deterding said. "Our big guys were working pretty hard and did some good stuff and that helped our guards."
Monday night Eudora played at Atchison and won 65-59. Ballock led Eudora with 20 points, and Bricker added 17. Drew Noble scored seven points. The Cardinals hit 18-26 from the free-throw line in the game.
Eudora played St. James Tuesday night at home and lost, 57-42.
In a span of 30 seconds during the second quarter, Noble hit a three-pointer, grabbed a defensive rebound and hit another three.
The series of plays sparked the Cardinals, and they cut an early deficit to two at the end of the first half. But Eudora scored only 12 more points in the second half.
"Our effort was pretty good," Deterding said. "We weren't as sound fundamentally, but it wasn't for a lack of effort. We were trying to do the right things, which is positive. In the first half we dug ourselves a hole, but we got out of it and battled really well. The second half we just didn't get any shots."
Ballock led Eudora with 18 and Noble added 10. Next up for Eudora is a Senior Night game against Ottawa on Tuesday.