A fine first
Mays wins league title at 215 pounds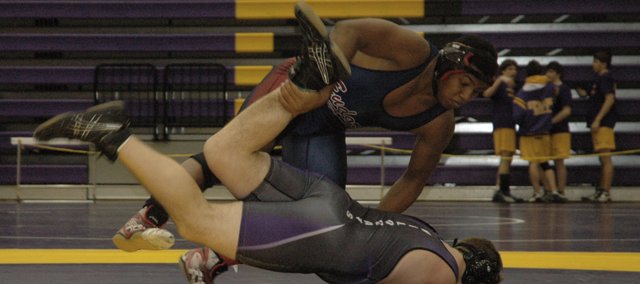 The Eudora Cardinals wrestled one man short at the Frontier League tournament last weekend, but the other 11 wrestlers performed well, and Eudora took third-place as a team and had one first-place medalist.
Sophomore Boomer Mays won league in the 215-pound weight class and pinned his Ottawa opponent in the final.
"That's nice to see out of a sophomore," Eudora coach Bill DeWitt said.
At the meet, Eudora steadily moved up in the standings, and Mays' win boosted Eudora into second with one match to go. But the Cards fell in their heavyweight match and Ottawa slipped by to take second-place.
Gardner won the league title with 177 points, Ottawa second at 148 and Eudora took third with 145 points. Baldwin finished fourth at 142. Eudora surely would have had an even better showing had Caleb Clayton-Molby wrestled at the tournament.
Molby, who was the No. 1 seed at 189, was getting his skin checked by the referees before the tournament when they found some sort of skin infection, possibly ringworm. Molby was forced to sit out the tournament.
"I felt like, honestly, going in if we wrestled well we could make a run for the league title," DeWitt said. "And without him (Molby) I knew it was going to be hard. But the rest of the kids responded and wrestled pretty well."
Eudora had three other wrestlers advance to the finals. They were Cody Salzman, Jackson Wiley and Derek Scrimsher. All took home second-place finishes. Scrimsher missed the dual at De Soto last week with a foot injury, but came back and wrestled last Thursday at Paola and again at league.
"He's a senior, he's one of those guys who doesn't get his name called all that much," De Witt said. "But over the years he's always done a good job and has filled spots for us. So it was nice to see him work his way into the finals."
Ten of Eudora's wrestlers finished in fifth-place or above. Darren Nabus, Thomas McLees and Dalton Hladky took third in their weight classes. Tyler Crow, Zac Chumbley and Ethan Becker had fifth-place finishes and Jonathan Morrison took seventh in heavyweight.
"For those kids to battle through there without Caleb, I thought those kids did a nice job of regrouping," DeWitt said. "I mean, they took care of their end."
De Witt said wrestling on just two days rest from the Paola meet wasn't too difficult. Eudora beat Paola, 35-28.
"It gave the kids a chance to wrestle on Thursday, and we came in on Friday and looked at some things to improve on," DeWitt said. "And I think going from Thursday to Saturday we made some improvements." Regionals begin Friday at 2 p.m. at Spring Hill. Should any of the Cardinals place in the top four, they will advance to the state meet next weekend in Salina.
"You never know how that tournament is going to wind up," DeWitt said of regionals. "You have to wrestle well and win close matches and stay on the bracket. That's why I was encouraged seeing some of our kids wrestle well at league. So I thought we took a good step."