Fire chief hopes department's progression continues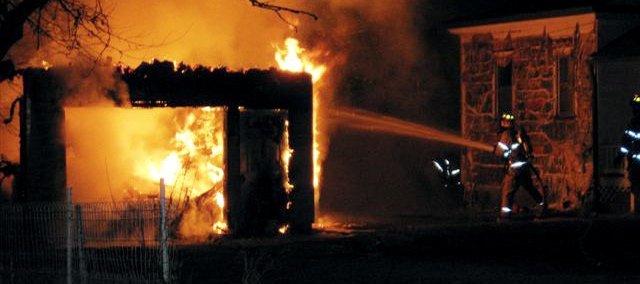 Eudora Fire Chief Randy Ates said 2008 was a year of catching up, and that 2009 will be a year to continue moving forward.
According to the department's year-end report for 2008, the year saw the merging of emergency medical services, caught up on policy and procedures, put shift supervisors in place and updated equipment.
Paired with the dedication of the volunteer firefighters, the improvements should allow the department to run more smoothly, Ates said.
"The volunteers put in a lot of time doing shift work and making sure all their calls are covered," he said. "Their coordination with each other, their willingness to train and spend time at the station — I think those are probably some of the things we do the best."
One of the ways the volunteers have worked well together was the introduction in November of shift supervisors, which has gone better than Ates anticipated.
Having the volunteers know when it is their day to be on-call has allowed them to be able to relax when they're at social gatherings or simply are running errands in the Kansas City or Lawrence areas.
"It's really lifted some of the burden from the volunteer's lives and their family's lives," Ates said.
Fire calls in 2008 totaled 156, which is up by 21 calls from 2007. EMS calls totaled 446 calls, which is up by 273 calls in 2007. However, the 173 calls in 2007 accounted for just half of the year because EMS was only part the department for half of that year.
Ates said that simple population growth is partly responsible for the increase in calls. He also said that the aging of the Baby Boomers — the Jayhawk Area Agency on Aging said a baby boomer turns 60-years-old every 60 seconds — was responsible for the increase in EMS calls.
And like Police Chief Greg Dahlem, Ates said the recession would lead to more EMS and fire calls.
"The economy also leads to a few more overdose and alcohol-related calls," Ates said. "Also, people may not have enough money to buy their meds or may use alternate sources of heating such as turning their oven on."
Now that the department has done what it could to catch up, Ates will begin to look into how it can progress.
"The department is changing and moving from being a small town fire department to being a group of volunteer professionals that are responding to the growing needs of the community," he said. "At some point we need to start to think about where we go from here to continue to develop the department and emergency medical services.
One improvement Ates would like to see made is a change in fire codes.
After November's fire at the Pinecrest II Apartments, Ates would like to see the city code reflect the need for fire extinguishers to be in all apartments units.
Ates said that the change in codes, as well as updating burn permit ordinances and getting key boxes for all local businesses so that doors and windows won't have to be broken during after-hours fires would be some of the duties of the part-time fire inspector the department will hire.
Ates also would like to look into lowering the city's fire insurance rates by getting an assessment of the city's fire fighting capabilities. Such an assessment hasn't been done in about 20 years. In that time, the city has installed new water lines and water towers.
A better rating on the assessment would lead to lower insurance rates for commercial businesses.
The only area that concerns Ates is daytime coverage. The busiest time hour of the day is form 10 to 11 a.m., but that also is when the department is short-staffed.
"I am concerned that if we lost one of two of our daytime people, we would be in dire straights for coverage."