5 questions:
EWE

names teacher of year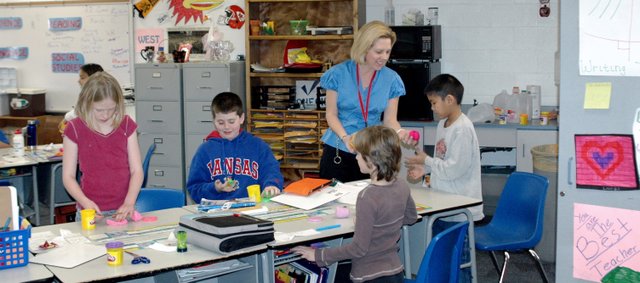 West Elementary School fourth-grade teacher Niki Rheuport was named EWE's teacher of the year.
She has been teaching in Eudora for five years, and for nine years overall.
Q: What was your response to winning the award?
A: I was happy, but surprised. It means a lot to me that your peers are the one nominating you. It's a very nice honor.
Q: What made you want to start teaching?
A: My great grandfather, my grandma was a teacher and then both of my aunts were teachers, so it's just kind of in the family.
Q: What are some of your favorite parts of teaching?
A: I love that we're given curriculum but we're given the freedom to teach it how we want to teach it. I love collaborating with the other teachers and figuring out a way to teach it in a creative, hands-on, fun way. Like right now, we're teaching economics using Play-doh.
I love that you can take an idea like economics — something that's kind of dry and boring — and spice it up.
Q: How important is it to create those engaging lessons?
A: It's the most important part of teaching. If you don't have those kids waiting for what's going to happen next, you've lost them and they're just bored.
Q: Are you still learning?
A: All of the time. I just love seeing something new in a magazine or something new out in the hall that another teacher did and I'll start thinking "How can I use that?"
That's the best thing about teaching is you can use other people's ideas.
More like this story