Contract divides council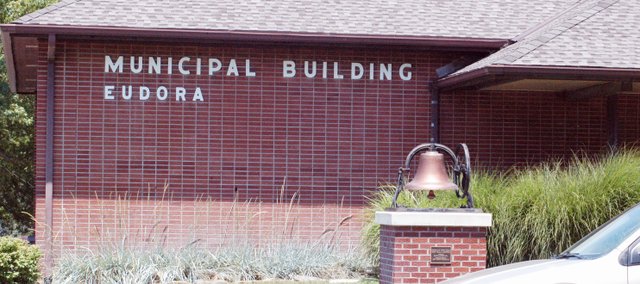 Although funding for economic development was one of the elements in this year's budget that initially was favored by all of the members of the Eudora City Council, actually spending the funds passed at Monday's council meeting by a measure of just 3-2.
The council set aside $90,000 for economic development and four companies offered their services. However, Councilmen Jeff Peterson and Bill Whitten wanted to hear more information on what they should be looking for in a firm before making a decision.
"I think people have done a good job of saying what they would do with that money, but I'm not sure that we've done a good job of thinking ahead in the process," Peterson said.
Peterson requested that the council further discuss the issue with Beth Johnson, senior vice president for economic development at the Lawrence Chamber of Commerce, and possibly save the city some money by figuring out exactly what was needed.
Council members Maria Nelson, Lori Fritzel and Fred Stewart voted to award engineering and planning firm Bucher, Willis and Ratliff a contract for $88,400.
BWR already is the city's planning firm and facilitated last year's visioning meetings.
Nelson said she wanted to begin the process so that the city is ready when the economy begins to improve.
"My one concern about basically starting this over again — and it's not that we're on a tight time schedule — but I feel like this whole thing is going to take a year or more to go live with and have something for businesses," she said
At a cost of $88,400, BWR services would include market studies, site development, business contacts and marketing. The process will be done in phases beginning with site development planning.
"Because Eudora has done nothing for its economic development, any step in that direction is the right direction," City Administrator Cheryl Beatty said. "The community that has everything prepared and ready to go is the community that is going to be successful when the economy turns back upward."
In other actions, the council:
• Approved Engineering firm BG Consultants to move forward with application for projects that could be eligible for funds from the newly approved American Recovery Act.
There is about $11 million available for projects in Northeast Kansas and another $10 million available statewide for transportation enhancement funds. Applications are due to the state Friday.
Projects discussed were phase II of the downtown project, which would install streetlights, planters and a new retaining wall on Main Street; and building a pedestrian bridge over Kansas Highway 10.
• Approved contract amendments for engineering services from BG Consultants.
• Approved the acceptance of a donation of playground equipment from the Lions Club. The organization will construct a wooden train at West Pilla Park that will be accompanied by a sign about the railroads in the area.
• Approved the lease of a 2009 police cruiser from Laird Noller Ford at a cost of $22,954.
• Set a public hearing for 7:30 p.m. March 23 to discuss a request from the street department to amend the 2009 budget for the street general fund and the special highway fund.