Cyclones shoot past Cardinals, 54-47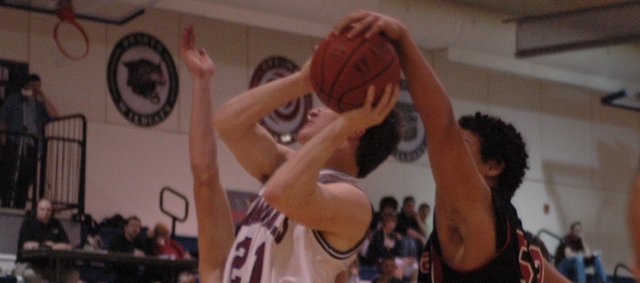 Two minutes into the Eudora-Ottawa boys' basketball game, the Cyclones made their game plan fairly clear: They were going to shoot the basketball from behind the arc, and shoot it well.
A barrage of treys (11 of them) allowed the Cyclones to storm past the Cardinals, 54-47, on Senior Night Tuesday at Eudora.
Ottawa guard Adam Hasty opened the game with back-to-back threes on the Cyclones' first two possessions. Then one three more from Adam Messenger fueled a 9-2 run in the first three minutes of the quarter, which caused Eudora to call a timeout.
As the shellshock wore off after the timeout, Eudora started to find its half-court offense and made its way back into the game, finishing the quarter down by just one.
But in parallel story structure to the first quarter, Ottawa came out firing from distance again and pulled away to a 23-14 lead. Junior Kevin Barber provided the spark, shooting 3-of-3 from three-point range.
"Their shots were falling, but we didn't do a good job of making them hit tough shots out of the 11 threes," Eudora coach Kyle Deterding said. "They probably had three or four tough ones, but they had a lot of open looks. Especially when they started hitting them, we didn't do a good job of finding the shooters."
Despite Eudora forcing several turnovers, Ottawa took a 25-18 lead into halftime.
The second half was considerably more uplifting for Cardinal fans, as the team moved the ball effectively and found some open shots. Junior Justin Ballock showed a strong mid-range game, nailing two jumpers early in the third quarter to keep the game tight.
The teams each had 14 points in the third quarter and Ottawa held on to a seven-point advantage going into the fourth.
Ottawa quickly buried two threes to start the fourth quarter and pushed the score to 46-34 with just more than six minutes to play. But a resilient Cardinal offense, led by junior Drew Noble and senior Cody Carlson, completed a 9-0 run to bring Eudora within three at 46-43.
With the game on the line, the teams traded baskets until a late Eudora turnover led to a thunderous left-handed jam from Barber to seal the Ottawa victory.
"We gave ourselves a chance in the fourth, but you have to make everything perfect when you dig yourself a hole like that," Deterding said. "We didn't quite do everything perfect."
Ballock and Michael Bricker led the Cardinals in scoring, finishing with 12 and 10 points, respectively.
Eudora (10-9) travels Friday to Spring Hill and begins sub-state play next week. Eudora is the No. 6 seed in the bracket and will play Monday night at No. 3 seed De Soto. Eudora is hosting the other two rounds of sub-state this year.