Girls fall on Senior Night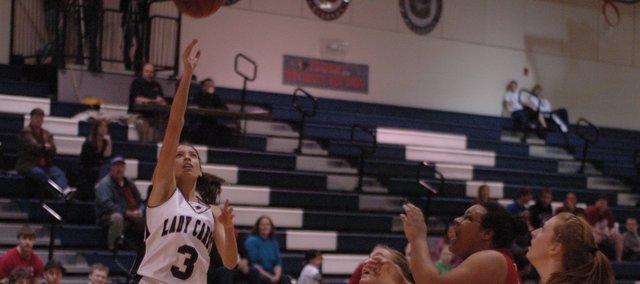 Senior Night didn't start the way the Eudora Cardinals had hoped for Tuesday night. And by the time it was over, the outcome wasn't either.
The girls fell behind by 12 points at the end of the first quarter and were never competitive in their 51-34 drubbing by Ottawa.
"We just didn't play very well," Eudora coach Ryan Luke said. "And it's not a good time to do that."
The girls made just two field goals in the first quarter, a stickback by Kendal Abel and a free-throw line jumper by Haley Epperson. Ottawa, meanwhile, raced out to a 9-2 lead and led 17-5 at the end of the first quarter. Eudora trimmed nine points off a 24-7 second quarter deficit on four free throws and a field goal by Abel and three-pointer by Evan Folks.
Eudora cut the lead to 10 in the third quarter at 28-18, but Ottawa responded with a 13-4 run to close out the quarter. Turnovers and inability to get rebounds in the fourth quarter ended any chance that the Eudora girls would go home happy on Senior Night.
Bailey Scott led the Cardinals with nine points, Folks added seven, Epperson and Abel scored five points apiece. Shelby Miller led Ottawa with 14 points and Kristen Hendrickson added 11.
Eudora (12-7) will finish the regular season Friday at Spring Hill and play its first round sub-state game against Spring Hill Tuesday night at Eudora. Sub-state this year is at Eudora High School.
Luke said that despite his team's showing against Ottawa, he suspected the girls would bounce back.
"I think we'll be fine," Luke said. "We'll respond. They're the type of kids that don't give up. So they'll respond."
More like this story