Planning starts for 20th All Night Prom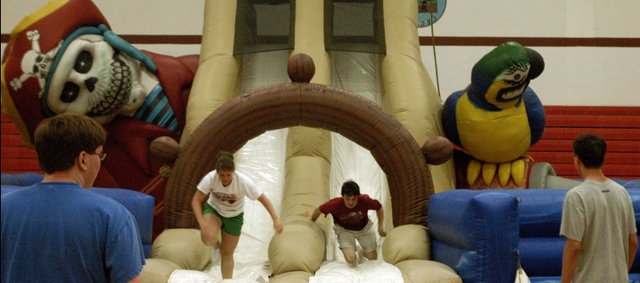 It's not an easy undertaking, gathering about 200 teenagers fresh from the prom and then keeping them busy from 1 to 5:30 a.m. But that is what the parents who organize All Night Prom will aim to do April 18.
"Seeing the kids enjoy themselves and giggle and laugh — that makes it all worth it," said Beverly Gadberry, who oversees the organization of the event. "It's definitely a night we all remember."
The event, started by Eudora High School activities director Dave Durkin and now in its 20th year, is paid for and staffed completely by parents with children in 11th or 12th grade.
The point of the event is to provide a safe environment for the students on what can be a wild night, said Janet Campbell, who heads up the fundraising and donations committee.
Students must sign in to the event between midnight and 1 a.m. Students are not allowed to leave early from the event unless a call is made to their parents.
While there, students are served a variety of foods and participate in several games and activities. They also are able to win prizes throughout the night.
The theme for the event is different every year, but it will not be revealed to the students until that night.
In trying to secure funds for the event, about 500 letters were sent out last week to area businesses.
Beverly Gadberry, who now is in her second year of organizing the event, said participation from the businesses and parents has been excellent.
"It's very fulfilling to see all of the community get behind this to keep our kids out of trouble," Gadberry said.
Gadberry oversees the five following committees that are staffed by parents of students who are juniors or seniors:
• decorating
• games
• food
• prizes and fundraising
• clean-up
Those on the clean-up committee do not have to stay all night, but instead come in early in the morning after the event is over.
Gadberry said those who don't want to attend the event still could contribute by to preparing and or bringing food, as well as donating prizes.
"We know there are tough times and we appreciate everything people can give us," Gadberry said. "So, any donation of any amount really means a lot to us."
For more information or to donate, call Beverly Gadberry at 913-907-4883 or Janet Campbell at 785-218-4275.