Salina state of mind
Four Cardinals advance to state tourney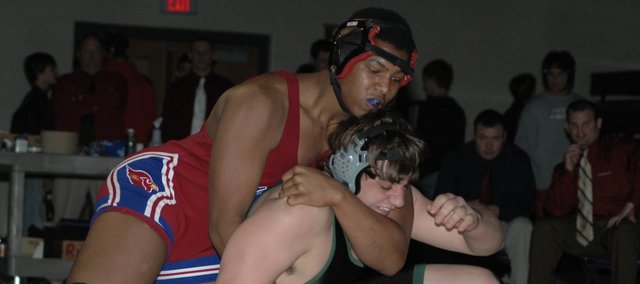 Once again the Eudora Cardinals are sending four wrestlers to the state tournament this weekend in Salina. Only this time, all of them might have an opportunity to go back next year.
Sophomores Boomer Mays (215), Caleb Clayton-Molby (189) and juniors Cody Salzman (112) and Thomas McLees (119) all placed fourth or higher last weekend at regionals in Spring Hill to advance to the state tournament, which begins at 10 a.m. Friday at the Bicentennial Center in Salina.
"Everybody there is good," Eudora wrestling coach Bill DeWitt said. "When you get the top 16 kids from across the state, you've got to be ready to go at round one because there are no easy matches, particularly at state. These kids will wrestle well. We've gone to some different places this season and we've seen some of these opponents before. So we've got opportunities."
Eudora's two sophomores took second and the two juniors placed fourth at regionals. Last year, Eudora sent four senior wrestlers to state, and DeWitt said inexperience at the state meet could be a challenge.
"You hope that inexperience isn't a factor, though it probably will be," DeWitt said. "But if the kids can get past that and try to look at it as another tournament on the schedule and just wrestle I think we'll be in good shape."
McLees, who wrestled on junior varsity last year, beat the No. 3 seed at regionals and wrestled well in the semis on the front side of the bracket. He also beat a wrestler from Anderson County whom he lost to earlier in the season.
"He's really put together a really nice season," DeWitt said of McLees. "He's kind of paid his dues and got a spot on varsity this season and kept his spot. He was a No. 6 seed in that tournament and he wrestled well to get in the top four."
Eudora finished seventh as a team at regionals with 89 points. Prairie View won the regional with 181 points, Osawatomie and St. James finished second and third, respectively. Ottawa, Basehor-Linwood and Baldwin finished fourth through six, just above Eudora.
Six Cardinals wrestled in the consolation semifinals, with Salzman and McLees advancing into the final four. DeWitt said it was difficult watching Jackson Wiley, Darren Nabus and Ethan Becker all go 3-2 at regionals and fall short of making it to state.
"I had to sit there and watch four guys end their seasons," DeWitt said. "That was tough. That was a tough round to coach. It's hard to see that happen. They wrestled well and couldn't get out of their bracket. That's tough."
DeWitt said he was ecstatic to have four in the state tournament again, but he would have liked to see one of his seniors advance to Salina.
"In all honesty, it was a little bittersweet because I'm elated for those four guys because we didn't return any state experience from last year," DeWitt said. "So it was kind of a crapshoot all year long. It's nice to have four underclassmen qualify because they have the opportunity to continue their seasons and really build toward next year. But it's kind of tough to watch my seniors wrestle their tails off and not get to extend their season."
Seniors Becker, Wiley, Max Campbell and Derek Scrimsher saw their careers come to a close at regionals. Fellow senior Alex Tacke did not wrestle at regionals.
"They're all good kids," DeWitt said. "They're good leaders who worked hard and showed up to practice. Most of them spent a large amount of their career on JV. I'm just really proud where they got to from where they began.
"The worst part of coaching is watching a kid wrestle their last match, knowing they're throwing everything they have out there and it just wasn't quite enough," DeWitt said. "It wasn't for a lack of effort. We had some tough kids, tough draws and couldn't catch any breaks. And their opponents wrestled well. That's the only drawback. But those guys are going to grow up to be outstanding young men."
DeWitt said he also would have liked his four wrestlers who advanced to state wrestle better in their last matches.
"In the finals, I don't think we wrestled particularly well," he said. "Some of that could be maybe a little bit of satisfaction just getting to state and not realizing that those matches are equally important because those matches determine your seeds for state next week.
"So we didn't do ourselves any favors for helping our seeds next week, but they're going to come out and wrestle well."
The top six wrestlers medal at state, and DeWitt said the tournament should be a rewarding experience.
"It'll be two days with lots of great wrestling and a really good experience," DeWitt said. "They just need to relax and get in there and wrestle and really do well and build for next year."