Social studies teacher can't stay busy enough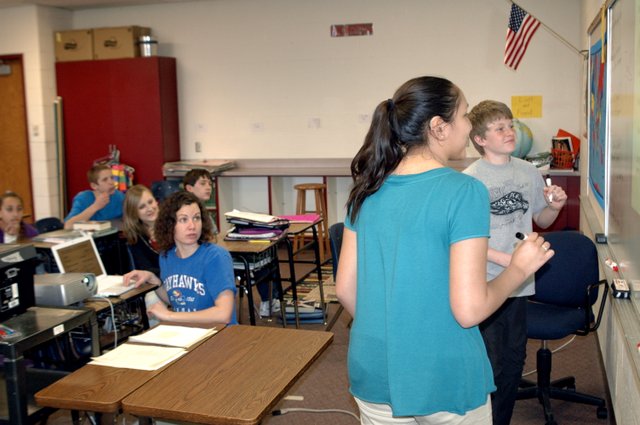 Miranda Joy almost sounded disappointed when she said she had a free Saturday coming up.
"I don't like down time, I guess," Joy said. "I work better under pressure and with more things going on."
And she isn't kidding.
On top of being a social studies teacher at Eudora Middle School, Joy is the head coach of EMS girls basketball and also coaches a fifth/sixth-grade basketball team. She serves on the social studies subject area committee for curriculum writing, she is taking nine students to Washington, D.C., in May and also is planning for her July wedding.
Her tireless work in and out of the classroom, as well a commitment to creating engaging activities, caused her colleagues to vote her the Eudora Chamber of Commerce's Teacher of the Month for February.
"She's been very cognizant of her own teaching styles and how it affects her students," EMS principal Richard Proffitt said. "She'll come in and ask me questions about how to improve, rather than me coming to her. She puts in a lot of hours that she doesn't have to, and it just makes her that much better."
Upon being told of the award, Joy said she was surprised and that the teacher she voted for — EMS English teacher Denise Kendall — should have won.
But she also said the recognition by her peers, as well as members of the community, was a boon to her professional confidence.
"When you put so much into something and then get something back in return, I guess it made me feel better about my profession and what I was doing," Joy said.
Joy is in her third year of teaching, but she taught kindergarten in her first year. As a result, she had what amounted to two first years — the toughest year for most teachers because they don't have all of their lessons developed.
Joy decided to become a teacher based on the teaching styles of her social studies teachers in high school and their use of hands-on activities, which Joy also employs in her class.
Varied activities, rather than just tests and worksheets, help her teach to each student's strengths, Joy said.
"She is very innovative at making her subject area a hands-on class. She has to use a lot of creativity and ingenuity to make it real to her students," Proffitt said. "She genuinely is concerned not only about every student's education, but every student as an individual. She does so much, not only in the class, but outside the classroom to help students in so many ways."
She said collaborating with other teachers also has helped her design some of those activities.
"I learn from other teachers a lot," Joy said. "That's the best way to learn — from your colleagues."
Joy fills any of her remaining free time with exercise and outdoor activities such as hunting and fishing with her fiancé, Eudora High School coach Ryan Luke.
She also finished her master's degree two years ago and would like to become an athletic director.
More like this story