USD

491 hit with budget cut of $114,000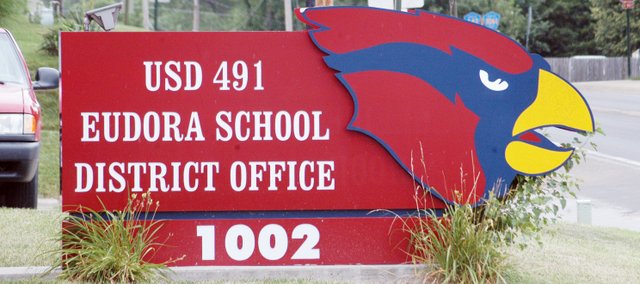 Though Gov. Kathleen Sebelius' approval last week of the 2009 budget bill protected public schools from more drastic cuts proposed by the Kansas House of Representatives, it still will mean a decrease of about $114,000 for Eudora USD 491.
The House had approved a cut of $66 per pupil and a decrease of 2 percent in special education services. Sebelius only approved a cut of $33 per pupil for public schools and vetoed the cut to special education services.
A cut of $66 per pupil would have been a decrease of about $191,000.
"While I agree with the Legislature that reducing the 2009 budget by more than $300 million is appropriate, I believe that with so much of the school year already behind us, the cuts proposed to public schools are too deep," Sebelius said in a press release.
Eudora Superintendent of Schools Don Grosdidier said though the cuts come with four months still left in this year's budget, its effects will be felt into next year.
"It puts us in a position where we won't have any significant reserves or cash balances left in any fund," he said. "Going into next year, that's concerning because the cuts that we'll have to make will be even deeper since we won't be carrying over any funds."
He said the district would continue to look into ways to minimize the severity of next year's cuts, which could be as high as 18 percent. Such cuts could mean a decrease of between $1.2 million to $2.1 million in the budget for fiscal year 2009-2010.
The district has been proactive as talk of impending cuts has proliferated since early fall, and last week it cut about $53,000 out of this year's budget.
Furthermore, Grosdidier said a speech last week to Eudora teachers from Darin Headrick, Superintendent of Greensburg Schools, strengthened his resolve to keep the district moving forward.
"He (Headrick) made the comment that a kid only has a chance to be a second-grader once, and our job is to make that the best experience that we can," Grosdidier said. "That falls on classroom teachers, building principals, counselors, the board and me, as superintendent.
"We have to play the hand we're dealt — from a finance standpoint. In the end, it's our job to determine to take those resources that we're given and make the experience of that second-grader as positive as we can."
Grosdidier also said reports of Sebelius being a candidate to join President Barack Obama's cabinet as Health and Human Services secretary concerned him because schools would be losing a strong ally.
"Governor Sebelius has proven herself to be supportive of K-12 public education," Grosdidier said. "Her will to step up to the plate on this particular issue and protect K-12 public education demonstrates that."