Third-grade teacher earns Eudora teacher of the month nod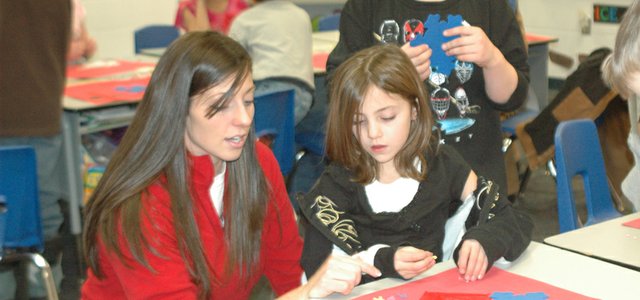 It's the day before winter break begins, and third-graders in Kacie Rife's classroom are having their Christmas party. But that doesn't mean Rife stops teaching.
Though various cakes and cookies surround the students and there is a festive atmosphere, Rife begins an art lesson and the students listened with rapt interest.
"She sees everything as an opportunity to teach," West Elementary School Principal Jan Irby said.
Her intuitive teaching style was the main factor in her peers voting her the Eudora Chamber of Commerce's Teacher of the Month for December.
Rife said much of the credit should go to those same people who voted for her.
"I'm very excited to get the award, but I feel kind of undeserving because it's such an honor and a team award," said Rife, who is in her second year of teaching. "You have to work together and with me being so new, I'm constantly going to other people for help."
Rife earned her teaching degree from Sterling College in Sterling. She said she always enjoyed children but especially enjoys the act of teaching them.
"When you take someone and you break things down for them and are able to teach them, I love that feeling and the look on their face when they get it," Rife said. "Those are the small rewards you get every day."
But Rife isn't the only one doing the teaching.
"I learn something new from the kids every single day," Rife said. "They come in here and they teach me so much, and I don't always expect that."
An elementary teacher covers many subjects. Rife enjoys planning engaging, hands-on lessons, especially in science and math.
"I spend a lot of time trying to come up with new ways (to teach) so that it's not just me up there talking and them getting bored," she said. "We get up and dance, we do songs, we move the desks out of the way and use the whole space"
Rife is very close to her family, who live in Inman. Her biggest challenge so far has been not being able to see them as much she would like.
"I'm so close to them and I've always been around them, but it's been a good challenge too just to see that I can do it," Rife said.
But the support and friendship she has received from the faculty and staff at West helped her deal with her distance from her family.
She is early in her career, but recently has considered returning to school to study counseling.
"Kids are so amazing and have so much to say," Rife said. "I don't know that I would go be a counselor, but just to have that knowledge of how to help them in certain situations would be nice. They're constantly on my heart."
Irby just hopes Rife sticks around West for as long as possible.
"She is one of those new teachers who is so wise beyond her years," Irby said. "She was meant to be a teacher. I can only hope that we can have as many children go through her room as we possibly can and that she can one day mentor teachers to be as great as she is."