New bigs on the block
Eudora's new post players give Cards inside advantage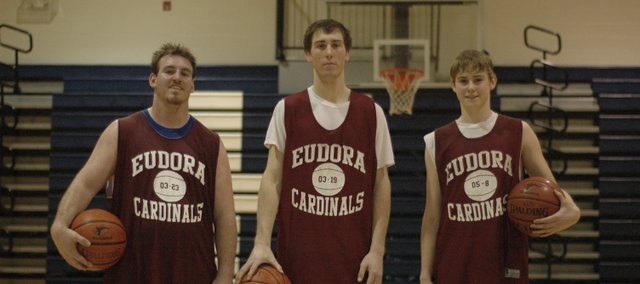 Eudora coach Kyle Deterding wasn't sure what his team's production in the paint would be this season after losing Dylan Rust and Morgan Abel to graduation. But six games into the season Deterding knows he can count on his "bigs" to be productive.
Michael Bricker, a 6-foot-6 senior, Cody Carlson, 6-foot-2 senior, and Drew Noble, 6-foot-1 junior, have combined to give Eudora 21 points and 16 rebounds a game this year.
"A couple of them have been pleasant surprises," Deterding said. "I didn't quite know what we'd have coming into the season but they've done a nice job.
"We count on them to get a lot done because we don't have a team where we can just walk out and beat people. We need everybody to play well and everybody to play together and the bigs have been doing a pretty god job."
Bricker and Carlson are starters and have given Eudora quality minutes in the high and low post. Bricker, who averages 8.2 points and 8.7 rebounds a game, often stations himself down low on the block, and Carlson finds open passing lanes to get him the ball from the high post.
"I like to run down the floor and get to the block and sit and maybe get some breakout points," said Bricker who also made the Paola Invitational all-tournament team. "And Cody kind of trails in and works the high post. If that doesn't work, we just switch it up and work together. And usually it goes good for us."
When he's not passing the ball down low to Bricker or Noble, Carlson has shown the ability to hit a few jumpers from just outside the free-throw lane this season.
"It's great to have Brick down low," Carlson said. "He sprints down the floor and stretches the defense and I trail in behind and work the high post and so does Drew.
"Having Bricker down there allows me and Drew to work the high post a lot and we can pass the ball real good, so that seems to be working."
Carlson also has been known to put the ball on the floor and take a rugged drive through the paint himself. Carlson, who averages six points and three rebounds a game, fouled out against Anderson County in the season opener and doesn't seem to mind physical play no matter the sport. He was also the left guard on the football team.
Carlson had been wearing a protective mask the past few games after sustaining a broken nose at the Paola Invitational. But don't look for Carlson to be wearing that hideous mask again in the future. He said he had trouble seeing and breathing while wearing it.
"I'm not wearing that thing anymore," he said.
Noble, who comes off the bench and usually provides the Cardinals with a spark, is averaging seven points and 4.5 rebounds a contest. Noble said that while on the court, he wasn't looking to do any one thing in particular.
"Just to help out any way I can and get the 50-50 balls and dive on the floor, draw charges, work hard inside and get rebounds," he said. "Most of the points I get come off rebounds, so I just need to work for the team and the points will come."
Deterding described Noble as someone who hustled and created problems for the opposition.
"He's active and he doesn't quit on plays," Deterding said. "He just keeps going. He's tough for people because he just keeps going."
Eudora is 5-1 this season and will play Friday night at Baldwin in its first game back after Christmas break. With their five wins, the Cardinals are already halfway to equaling last year's win total. But they won't be satisfied with 10 wins this year.
At the end of practice or in the locker room after games, the Cardinals gather together and cheer "All the way to state." And Bricker said the team's success this year began off the basketball court.
"We're all pretty good friends and we get along with each other pretty well," Bricker said. "And when we get on the court no one's too stingy and everybody passes the ball.
"If the guards don't have a good shot, we'll just work it around and get that inside-out look. And then they get their shots and we get ours. It's pretty nice."