Cards fall to Gardner, take 3rd at Bonner Springs tourney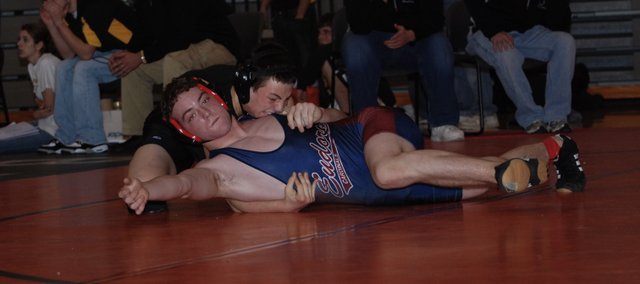 Heading into last Thursday's dual against Gardner, Eudora coach Bill DeWitt said he was hoping the Cardinals would steal a match or two and upset league foe Gardner.
Eudora did win a few matches but ultimately lost to Gardner, who DeWitt considered to be the top team in the league.
"They are a good team," DeWitt said. "They just had some kids who are pretty exceptional. I thought our kids gave a pretty good effort, but they're a tough team."
DeWitt hadn't used many freshmen on the varsity squad this season but did so Thursday, and freshman Andrew McLees won a match against Gardner. DeWitt was pleased with Eudora's effort but noted sometimes "you can wrestle well and still lose."
The Cardinals didn't lose many matches last weekend at the Bonner Springs Invitational and took home third-place as a team. Junior Dalton Hladky took first-place in the 135-pound weight class, Boomer Mays (215) and Caleb Clayton-Molby (189) both made it to the finals in their respective weight classes and each took second-place and junior Thomas McLees finished in third at 119.
"He's been wrestling really well for us this year," DeWitt said. "I don't think his record overall shows it, but he's wrestled really well for us. He's had to wrestle some really tough kids."
Cody Salzman took third-place at 112, Ethan Becker took fourth at 160 and Jackson Wiley took fourth at 125. Wiley had previously been wrestling at 130 but dropped down after the dual with Gardner.
"I thought he wrestled pretty well," DeWitt said of Wiley. "He's just got to adjust now to a new weight class. We're getting to the point in the season that if you are going to change weight classes, now is the time to do it at the halfway point of the season because you have to spend half the season in one weight class or the other.
"So he decided after Thursday's dual to go down and try 125 and I think he's going to stay there. I thought he looked pretty good. I think he's going to be pretty tough in that weight class."
Next up for Eudora is the Basehor-Linwood Invitational this weekend. The two-day, 32-team tournament begins Friday and concludes on Saturday.
"I think our kids will show up and wrestle tough," DeWitt said. "Since there's 32 teams, we'll have a lot of kids who will wrestle well and never show up in the results.
"But if we're able to place a couple guys, I'll feel pretty good."