Comeback Cards
Boys net first league victory with
OT

win over Baldwin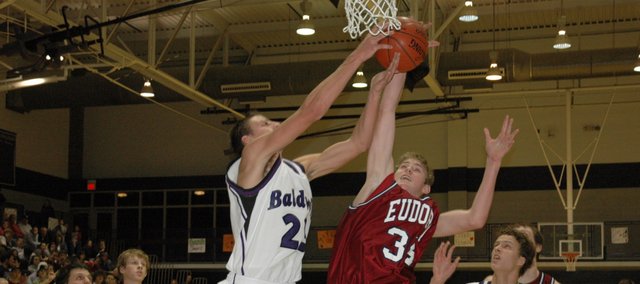 Eudora High's basketball teams battled a loud, rocking gym Friday night at Baldwin as they swept their Frontier League rivals.
In the boys game, the Cardinals overcame an early deficit to win 47-45 in overtime.
"That was just a fun game," Eudora coach Kyle Deterding said. "Even if we would have lost, that was a fun game to compete in. The kids work awful hard in practice for a long time for games like that. Win or lose, that was a good game. Baldwin has a really nice team."
Baldwin led by two at the end of the first quarter and boosted that lead to 28-18 by outscoring Eudora 16-8 in the second quarter. Eudora's Brian Katzfey opened the second half with a three-pointer and Baldwin answered with a bucket of its own to make the score 30-21. The Cardinals then scored 11 straight points to take the lead at 32-30 heading into the fourth quarter.
"That's probably the best we've competed all year," Deterding said. "We've been talking a lot about competing and working hard. The kids did a nice job today."
Eudora eventually built its lead up to 38-33 on from baskets by Cody Carlson, but Baldwin's Brandon Tommer hit a three-pointer with 1:23 left to tie game at 38.
Each team hit a pair of free throws to tie game 40-40. Baldwin had a chance to win the game in regulation but its last shot missed.
In the extra period, Baldwin's Sam Beecher drained a three-pointer to give BHS a quick lead. Eudora (6-1) sank three of six free throws and scored on baskets from Justin Ballock and Brian Katzfey. The pair of Cardinals combined for 28 points in the game as Ballock scored 17 and Katzfey added 11.
Katzfey hit a shot with 51 seconds to play to give Eudora a 46-45 lead. Baldwin had another crack at it but missed a shot and Katzfey was fouled. He made one of two free throws to give Eudora a 47-45 lead.
Baldwin again had the final shot of the game but missed.
"We had just enough," Deterding said. "It could have gone either way. They had a shot at the end of regulation and overtime to win it. Neither of them went in, so we were very fortunate. It was fun."
Deterding said Eudora's comeback win was a result of tough defense in the second half.
"I don't know if we were doing much offensively, but we finally got a few stops," Deterding said. "We were able to sneak back into the game because they really lit us up in the second quarter."
Evan Cleveland had nine points for Eudora, Michael Bricker and Carlson each scored four. Craig Harper scored two. Tommer led Baldwin with 19 points.
Eudora will play Friday night at De Soto.