Italian for beginners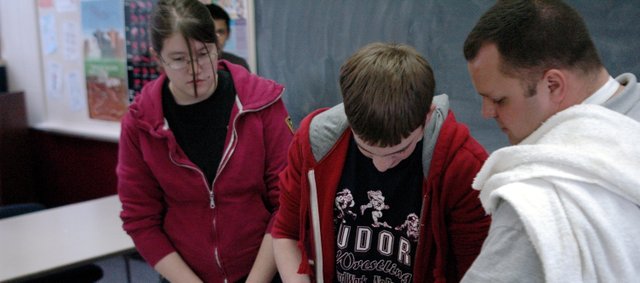 In the first of what will be several demonstrations by community members, students in Jason Gray and Renee Mueting's culinary arts classes at EHS learned how to make Sicilian artichokes.
Ryan Healzer's Sicilian Artichokes
3 medium artichokes
2 cups Italian bread crumbs
3 oz. prosciutto, chopped
1 1/2 cup salad shrimp
2 sticks butter, melted
2 cups parmesan cheese, shredded
2 cups romano cheese, shredded
2 cups mozzarella cheese, shredded
Prepare artichokes by cutting at base to create a flat surface so the artichoke sits. Then, trim the tips off the leaves. Place artichokes in boiling water and boil until leaves are tender. Remove artichokes from water and be sure to remove all excess water. Press down on artichoke to fan out leaves.
Sprinkle bread crumbs in each leaf. Add prosciutto and then shrimp to each leaf. Pour melted butter over each leaf. Cover liberally with cheese, starting with mozzarella, then romano and finish with parmesan.
Bake at 350 degrees until cheese is melted and the artichoke leaves are slightly brown.