Seniors lead way in road win over Bulldogs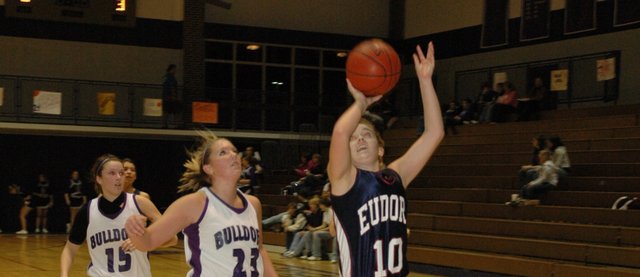 The Eudora-Baldwin girls contest was filled with plenty of turnovers by both teams, but in the end, the Cardinals made more plays offensively.
Eudora seniors Haley Epperson and Rachel Pyle sparked an 8-0 run in the third quarter that gave the Cardinals all of the distance they needed and Eudora went on to win 43-29.
"We were a little rough at the beginning of the game, but we responded pretty well," Eudora girls coach Ryan Luke said. "It was a pretty physical game. I thought we did a great job of handling their defense, because they play great defense. Our seniors made some big plays down the stretch for us."
Baldwin led by one at the end of the first quarter but Eudora reclaimed the lead 15-13 at the half. Epperson scored a game-high 20 points to lead the Cardinals, including Eudora's first eight points of the game. Kendal Abel tossed in 10 points, Bailey Scott scored eight and Pyle scored five.
"Our seniors are great kids," Luke said. "They are very knowledgeable. They do a great job of making adjustments during games. When it gets down to the wire and we need a play, they do a good job of that, too.
"Haley Epperson made some big plays for us. Rachel Pyle did a good job of handling the ball for us. Bailey Scott played great defense tonight."
Eudora (6-1) used a second-half surge, scoring 12 points in the third and 16 in the fourth, to pull away from the Bulldogs. Abel hit a three-pointer late in the game to give the Cardinals a 40-26 lead. She also made a three-point play with 26 seconds left in the game.
"So far this year, we've done a great job," Luke said. "I can't say enough about the kids and their efforts and how well they've played. I'm pleased at this point. We just have to continue to improve. Hopefully, we'll be in the right position by the end of the year."
The Eudora girls will next play Friday night at De Soto.
"It is nice to always get a win against Baldwin," Luke said. "They are very well coached and coming here to play is tough. Getting wins in the league is going to be an accomplishment this year because the league is stacked. From top to bottom, every team is good."