USD

491 approves building plans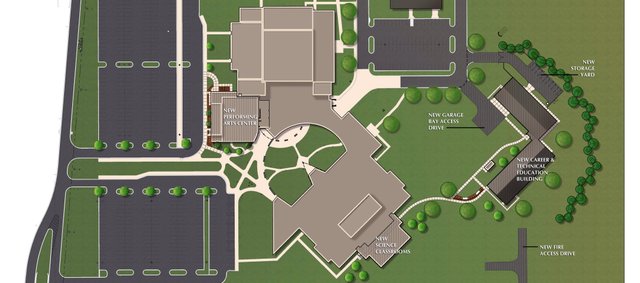 The Eudora USD 491 Board of Education got its first glance at additions to the high school last Thursday night when it approved building plans for new science classrooms, a 750-seat auditorium and the new Eudora/De Soto Technical Education Center.
Representatives from the firm DLR Group presented drawings to the board. The projects all are part of the $45 million bond issue.
"I was very impressed with the designs," Superintendent Don Grosdidier said. "I've been very pleased with the level of service that we've got from DLR on these projects."
The financing of the projects became troublesome as a result of the volatile economy, and Grosdidier said it was something the district would have to deal with throughout the construction process.
"There is a recognition that we're going to have to deal with that (the economy), but we're more optimistic going into this bidding than we were with the others because there are a lot of contractors who are hungry," he said. "As a result, we think we'll be able to get some good bids."
Board members complimented DLR on the plans as well as the thorough presentation, and Grosdidier was especially pleased with the plans to connect the new technical center to the north side of the high school.
Classes for technical center currently are taught at the high school, the Eudora Community Learning Centerand De Soto's Countryside Learning Center. The new plans will make it so that Eudora students no longer will have to travel off campus for technical education classes.
Physical proximity of the building is a good representation of administration's intent to integrate subject matter of the core curriculum into the technical classes, and vice versa, the superintendent said.
"We tried from the get go in starting our tech programs to get away from the idea that the technical school was its own separate entity," Grosdidier said. "What we've tried to do is say 'yes, this is for all kids,' and provide as many opportunities for exploration as possible."
Grosdidier also said that all of the projects were designed with the acknowledge Eudora still will see growth in the future. So, more classrooms could be constructed if population increases dictate a need.
"Our charge as good stewards is to set up a situation to where we can make decisions that allow for flexibility 10 years from now."
In other actions, the council was notified by Grosdidier that technological communications company Clearwire has leased call signs the district intended to use for student-produced radio or television broadcasts.
Clearwire paid a one-time fee of $65,000 and will pay $26,000 per year during the next five years. The lease can be renewed five more times.