Cardinals advance at Tonganoxie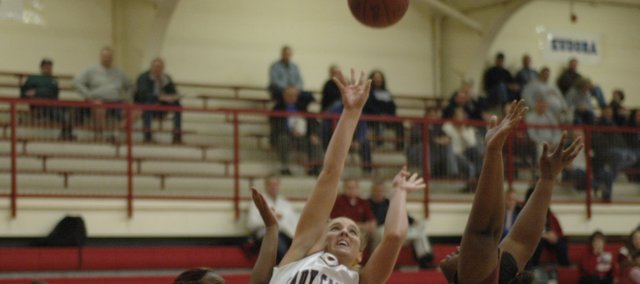 Don Bosco's bus arrived about a half hour late to the game but that really only delayed the inevitable. The Eudora girls jumped out to an early lead, a whopping early lead and crushed Don Bosco 83-2 Tuesday in the Tonganoxie Invitational.
Eudora led 36-0 at the end of the first quarter and 52-0 at the half. The mercy rule was enacted and a continuous clock ran from the second quarter on.
"I told the girls that it's one of those games that we forget about and move on," Eudora coach Ryan Luke said after the game. "We made a lot of mistakes but I thought we did a good job just playing the game and trying to do the best we could do. We're just ready to move on."
Haley Epperson led Eudora with 16 points, hitting all eight of her shots. Bailey Scott added 13 and Evan Folks and Rachel Pyle both scored nine apiece for Eudora (8-1).
Don Bosco's lone basket came from Jessica President during the third quarter. Eudora will play Silver Lake at 3 p.m. on Friday in Tonganoxie in the second round. Eudora beat Silver Lake earlier in the season.
"They are very well coached and they are a really good team, so it's going to be a really good game," Luke said. "It's going to be a huge challenge for us. That's a game we definitely would like to win.
Score by quarters
1 2 3 4 F
Don Bosco 0 0 20 0 2
Eudora 36 16 15 16 83
Don Bosco -- Jessica President 2.
Eudora – Bailey Scott 13, Hannah Kouri 1, Evan Folks 9, Rachel Pyle 9, Madison Oller 2, Katie Slavin 8, Mariah Webb 4, Kendal Abel 5, Haley Epperson 16, Sydney Schmille 8, Molly Brunton 2, Shea Lounsbury 6.
Eudora boys
Michael Bricker scored 17 points and pulled down six rebounds to lead Eudora to an 89-52 win over Don Bosco in the first round of the Tonganoxie Invitational Tuesday night.
Eudora outscored Don Bosco 29-5 in the third quarter to blow the game open. Five players scored in double figures for Eudora (8-1).
"Our bigs, they gave us some layups," Eudora coach Kyle Deterding said. "But in the halfcourt once we got it inside our bigs all scored a little bit."
Post players Cody Carlson scored 10 and Drew Noble added 11 for the Cardinals. Eudora will play the winner of Tonganoxie-Silver Lake Friday at 7:30 in Tonganoxie.
Score by quarters
1 2 3 4 F
Don Bosco 19 9 5 19 52
Eudora 20 27 29 13 89
Don Bosco – Kenneth Nooner 2, Donavan Garrett 19, Ralph Hooker 29, Brett Briggs 2.
Eudora – Bryan Dudley 3, Craig Harper 2, Craig Roberts 5, Justin Ballock 13, Kyle Swanson 5, Zac Bryant 7, Brian Katzfey 11, Cody Carlson 10, Joel Lauer 5, Drew Noble 11, Michael Bricker 17.