Girls pull away from Cats late, crush Don Bosco 83-2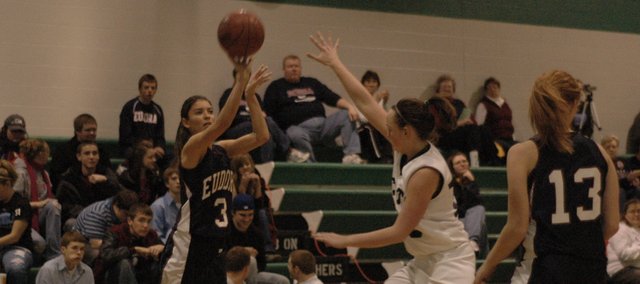 Eudora's game at De Soto last Friday night was close for a while. But against Don Bosco in the Tonganoxie Invitational, the game was never close and Eudora notched two more wins on the season.
The De Soto girls hung tough into the fourth quarter against the Cardinals last week, but Eudora closed the quarter on a 19-2 run and won the game 60-36.
"I was really pleased with us offensively," Eudora coach Ryan Luke said after the game. "I thought we did a great job just running and executing what we wanted to do. De Soto was doing the same thing. They shot really well and were executing their press offense and all the little things they were trying to do well, they did well."
Eudora built a 12-point lead at the half, but De Soto cut the lead to seven early in the fourth quarter. Eudora then capitalized on De Soto turnovers with easy layups and shots inside.
"The fourth quarter we got rolling and played better defense," Luke said. "We feed off our defense, which turns into offense and that's what we did."
Haley Epperson scored 23 points and Bailey Scott added 18 for the Cardinals against De Soto.
Eudora's game against Don Bosco Tuesday was delayed about a half hour because Don Bosco's bus arrived late to the gym. That really only delayed the inevitable as Eudora jumped out to an early lead and crushed Don Bosco 83-2 to advance to the second round.
Eudora led 36-0 at the end of the first quarter and 52-0 at the half. The mercy rule was enacted and a continuous clock ran from the second quarter on.
"I told the girls that it's one of those games that we forget about and move on," Luke said. "We made a lot of mistakes but I thought we did a good job just playing the game and trying to do the best we could do. We're just ready to move on."
Epperson led Eudora with 16 points, hitting all eight of her shots. Scott added 13 and Evan Folks and Rachel Pyle both scored nine apiece for Eudora (8-1).
Don Bosco's lone basket came during the third quarter.
Eudora will play Silver Lake at 3 p.m. Friday. Eudora beat Silver Lake earlier this year.
"It's going to be a huge challenge for us," Luke said. "That's a game we definitely would like to win."