Grosdidier concerned by possible legislation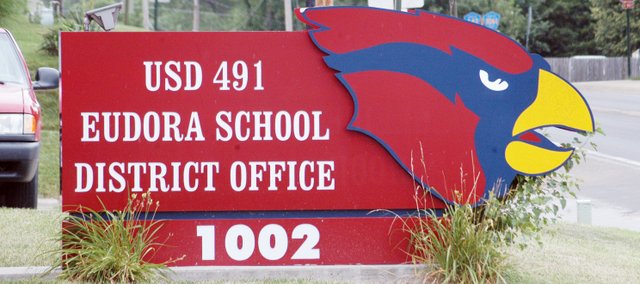 Eudora USD 491 Superintendent Don Grosdidier sat in his office Tuesday afternoon calculating the potential budget cuts that have been proposed by state legislators.
He muttered disconcertingly as he wrote down the result of the number crunching.
"This is not good," Grosdidier said.
Although Kansas Governor Kathleen Sebelius said she would hold harmless public school budgets, she proposed on Jan. 15 a $22 cut to per pupil funding that would amount to about a $90,000 decrease in the district's fiscal year 2009 budget.
But the number that was especially worrisome to Grosdidier was the $88 to $221 cut that the Senate Ways and Means Committee is discussing. At the least, the cut would mean about a $242,000 decrease in the district's budget.
"The governor's recommendation is the best-case scenario," Grosdidier said. "I'm not sure where we would come up with $242,000."
In November, the district made cuts to out-of-state travel, professional development and memberships to professional organizations.
"We've basically taken an attitude that we're not going to spend money on things that we don't have a dire need for," Grosdidier said. "So, if it's not something that is completely essential to what goes on in the classroom, we're not spending money on it."
Grosdidier said he was glad to have the number of quality instructors working in the district, but he also knows deep cuts to school budgets by state legislators could decrease those numbers.
"That's what I hope the Legislature understands — the only way to make significant cuts in public education is to cut people," he said. "That will have negative consequences on not only schools but the economy as a whole."
Another possible piece of legislation being considered by the Senate Ways and Means Committee is Senate Bill 20, which would cut all state aid for construction bonds issued between Jan. 1, 2009, and June 30, 2011.
Eudora is a 39 percent state aid district, so the state pays for 39 percent of the principal and interest on bonds.
The bill would have affect the $45 million bond issue Eudora district voters approved in November 2007.
If SB 20 were to be passed, the state only would contribute to $11.25 million in bonds and back the state out of aiding with the remaining $34.75 million in bonds.
"That's not a burden that the taxpayers agreed to take on and the Legislature is coming in and putting the cart before the horse," Grosdidier said. "I don't think it's ethical, I don't think it's fair, and I don't think it's legal."
In an effort defeat SB 20, the district has initiated a campaign to lobby the Legislature to reconsider bill.
Grosdidier also said litigation could be a possibility if the bill were to be passed.
In the meantime, the USD 491 Board of Education will have a special meeting at 6 p.m. Thursday in the Eudora Middle School library to discuss district priorities.
"It's as much an exercise to prepare ourselves for establishing the budget for next year as anything," Grosdidier said.