Salzman, Becker place 7th at Basehor-Linwood Invitational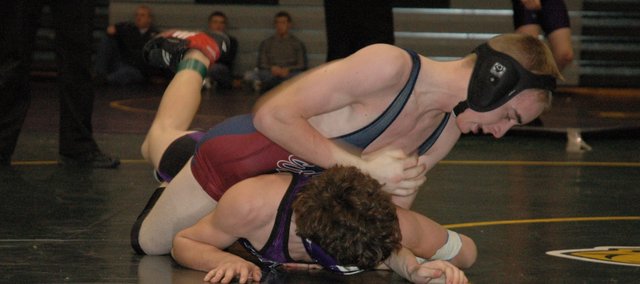 Eudora junior Cody Salzman and senior Ethan Becker both advanced to the winner's bracket last Friday at theBasehor-Linwood Invitational. And on Saturday they both took home medals.
Salzman finished in seventh-place wrestling at 119-pounds, and Becker also finished seventh wrestling in the 160-pound weight class. Eudora coach Bill DeWitt said Salzman, who has placed a few times already this season, could still get better.
"He still kind of struggles in matches a little bit where he's really overpowered," DeWitt said. "I think he lets himself get beat a little bit before he gets on the mat, which if we can work through that with him, he's really going to turn some corners this year and be exceptional."
Becker went 5-2 during the two-day, 32-team tournament. DeWitt said doing that well against that competition was quite an accomplishment.
"To do that, wrestling seven times in one tournament is pretty outstanding," DeWitt said. "He wrestled well. He's starting to come into his own. That's a kid who as a senior I'm kind of proud of him because he spent his first three years on JV and now he's stepped up to varsity and is making the most of it."
Becker is now 20-9 on the season. Eudora finished in the lower half as a team at Basehor-Linwood but lost some points because Boomer Mays (215) and Caleb Clayton-Molby (189) were both held out of the tournament as a precaution to heal injured shoulders from the Bonner Springs Invitational.
"It was just one of those situations where if they are not 100 percent, I'm not going to put them out there in a tournament as tough as this that ultimately isn't going to do us a whole lot of good as it relates to being healthy at the end of the year," DeWitt said. "They weren't happy with it. They want to compete."
Next up for Eudora is the Paola Invitational on Saturday. DeWitt said he would rest some his varsity wrestlers and use some JV players.