Candidates file for council, mayoral races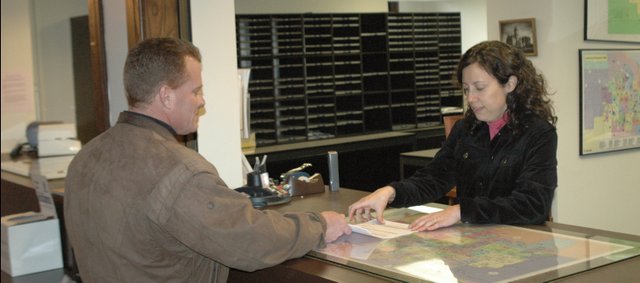 The last races for mayor of Eudora and Eudora City Council were uncontested, which will not be the case this year. In both races, more than double the amount of candidates filed as are positions available.
Current Mayor Tom Pyle is seeking another term. He will face Scott Hopson and Jean Farmer.
Scott Hopson, 46, is a journeyman lineman for Kansas Power and Light. He also is a former Eudora City Council member.
"I'm not happy with the direction the city government is going," Hopson said. "We're spending way too much money and it's been taken out of the hands of the townspeople and one or two people are running it all."
Hopson has lived in Eudora for 35 years.
Jean Farmer, 57, is a cashier at Casey's General Store and a property manager at Pinecrest III
She said she was running because things needed to be changed.
"I don't have anything specific in mind, and I'm not going to make promises I can't keep," Farmer said.
She has lived in Eudora for about 20 years.
Pyle, 79, is the owner of Pyle Meat. He has also served four terms on the city council and has lived in Eudora for about 50 years.
"I fell in love with this community a long time ago and felt I had something to offer," Pyle said. "There are still things I can do to help Eudora. We need to be conservative with money right now.
There are five candidates for city council. Those running for the two open seats are current councilman Bill Whitten, Mike Warner, Tonya Summers, Tim Reazin and Brian Nyp. Current Councilwoman Lori Fritzel declined to run for re-election.
Mike Warner, 55, is an assistant U.S. attorney for the Federal Prosecutor in the Western District of Missouri. He has lived in Eudora for about five years and said he felt obligated to serve the community.
"I plan on living here forever and have an interest in longterm growth," Warner said.
Summers, 44, works at Home Depot and has served one term on the Eudora Planning Commission. She has lived in Eudora for about 25 years.
"I've been here a long time and used to be really involved and I want to give back," Summers said.
Tim Reazin, 35, is a volunteer firefighter and EMT in Eudora and works in logistics for the Federal Emergency Management Administration. He has lived in Eudora for about 12 years.
"I have no set agenda," Reazin said. "I'd just like to see planning for positive economic growth."
Brian Nyp, 29, is a CPA and has lived in Eudora for about six years.
He said his focus would be the finances of the city.
"One of the biggest issues would be cost cutting and government, in general," Nyp said.
Bill Whitten, 44, is a career firefighter in Lenexa and was born and raised in Eudora.
He currently sits on the council and is coming to the end of his first term. He said he was running because of the rate by which taxes have risen during the last five or so years.
"I would like to retire here myself, but I'd like to be able to afford to retire here," Whitten said.
According to Douglas County Clerk Jamie Shew, there will be no primary for elections in Douglas County.
The general election will be April 7.