Eudora business serving helicopter owners and operators around world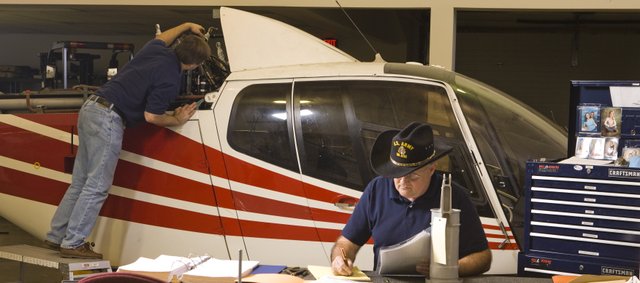 As the faltering economy is causing some businesses to take a hard look at making cutbacks, the owners of Eudora's EuroTec Vertical Flight Solutions feel they're on the cusp of expanding.
The company, which is a provider of certified airframe and turbine engine parts and service for helicopters, opened its headquarters in the Intech Business Park in late 2007.
"We've grown into the new facility rather fast," said Chad Decker, owner and president of EuroTec. "We enjoy Eudora and look forward to being here for many more years."
Decker entered the U.S. Navy when he was 17 and had intentions of being an aviation mechanic once he got out. But after receiving an opportunity to work as a salesman for an aviation company, he took on more responsibility and later started Capital Aviation in 2000.
He then changed the name to EuroTec, in order to signify the fact that the company specialized in Eurocopter helicopters and Turbomeca engines.
A landlocked state such as Kansas might not seem like an obvious choice of residence for someone who since childhood wanted to be in the Navy. But for Decker, whose wife is from Kansas, it's more about the people than the geographic location.
"I do love the ocean and I enjoyed serving in the Navy," Decker said. "I've been to a lot of countries and traveled the world but there's something about Kansas — once you move here you never want to leave. I think Kansas is a great place to live, and the people here are very friendly."
That focus on people is evident from the moment you enter the lobby of EuroTec offices.
It's clear what is important to Decker, as a wall of shelves is decorated with pictures of employees and their families and various model helicopters.
"We've tried to create a feeling of warmth, which truly reflects the type of people we are," Decker said.
The Russian nesting dolls and other international trinkets that adorn the shelves also give the impression that EuroTec serves customers throughout the world — which it does.
It is a Federal Aviation Administration repair and parts company whose clients range from the U.S. Department of Homeland Security and other law enforcement agencies, as well as the offshore oil, utility and seismic industries.
In some cases, that means taking a 3 a.m. phone call from a client who needs immediate assistance. In suchcases, Decker must drive from his home in Lawrence to the warehouse so that the part can be delivered right away.
"Sometimes we get calls called AOG calls, which is an acronym for aircraft on ground, and typically those calls are from medevac or law enforcement agencies who can't afford to have the aircraft down," Decker explained. "They call and if the part is immediately available, it will be taken to KCI to board the next available flight to its destination. It's just part of the job."
Though EuroTec serves 450 owner/operators and service shops throughout the world, Decker said he isn't sure if drivers on Kansas Highway 10 are even aware that the silver shapes on the company's sign are helicopter blades.
"I think it's incredible to have something of this magnitude (here)," said EuroTec Office and Human Resources Manager Annie Hadl. "I don't think the community is aware the fact that EuroTec is known all around the world. We're essentially putting Eudora on the map."
Decker said he hoped to further the reach of EuroTec in the coming years and he plans on keeping the company in Eudora.
"We hope to continue down the road that we're on and strengthen our footprint within the industry and add to our capabilities."