Overcoming adversity
EHS

freshman wrestles despite cerebral palsy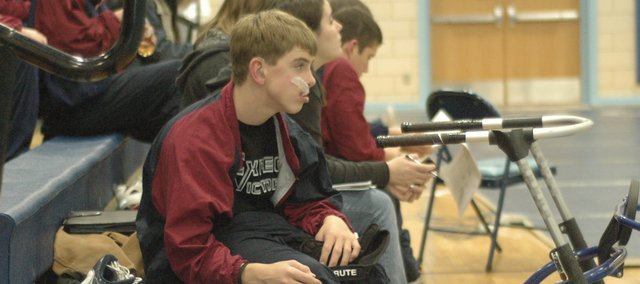 It's 3:23 p.m. and seven minutes until the freshmen wrestling tournament at Southwest Junior High in Lawrence begins.
Zach Herries, in his Eudora wrestling "Expect Victory" T-shirt, is on the mat with his feet together stretching before the first match. His teammates surround him, bent over backwards with their hands and feet stretched out looking like human arches.
For Herries, who wrestles at 119-pounds, such maneuvers are impossible. His walker is just outside the ring near the Eudora bench at half-court. After the team is done stretching, Herries wrestles with teammate Andrew McLees and flips him on his back. McLees counters that move and turns Herries on his back and pins him.
It's 3:30. The first match is ready to start. Herries' teammates jog to the Eudora bench while Herries crawls on his hands and knees back to his walker. He grips the bars and steps forward in the confined two-and-a-half foot space of his walker. He returns to the Eudora bench where his teammates await. Spectators watch him as he moves with every step. Herries suffers from a type of cerebral palsy known as spastic diplegia, a birth defect that affects the brain and nerves, which hinder the development of the lower extremities and limits the use of ones legs.
"I've had a walker for a long time," Herries said. "But I want to wrestle. And I do the best I can."
***
About the time Zach was born, there was a lack of oxygen to his brain. That spot is basically dead. Zach's parents Richard and Kim Herries knew the challenges their son would face in life.
"I remember the first time I held him in my hands," his father said. "I remember thinking would he get to experience the great things that sports brings?"
Herries was 2 1/2 when he got his first walker and hearing aids. But the doctors said the areas around that spot could be retrained if they worked hard enough with him. So Richard said he treated Zach like most any other boy and wrestled around and played catch with him early on.
"We've never told him that he can't do anything," Richard said. "He shouldn't be able to catch a baseball but he can. He shouldn't be able to hit a baseball but he can."
One of the first sports Zach played competitively was baseball. Richard coached kids' baseball and basketball for about 10 years, and Zach played in the Unified League in Lawrence as a youngster.
Richard would pitch, and Zach would hit as he stood inside the walker. Richard would then run over and grab hold of the walker for support as Zach would run toward first base. But Zach had trouble playing the sport because the wheels on his walker could not go through the infield dirt and would often get stuck.
"All of the sudden the walker would stop and he'd take about four or five steps without the walker and then just go into a big pile," Richard said.
But Zach would play on. He also got to coach, too, with his dad. Richard would help with various basketball camps, and Zach would be quick to point out tips to players such as to dribble more with their left hands. The Herries family lived in Lawrence and moved to Eudora three years ago. A family friend suggested that Zach should go out for wrestling. The family then went to a wrestling meet, and Zach took immediate interest.
***
Seeing kids about his size tumble around on the mat appealed to him. But Kim was hesitant to let Zach wrestle because she was afraid he could get hurt. Initially, so was his father.
"I played enough sports that it's just going to happen and somebody's going to get hurt at some point in time in sports," Richard said. "But with his upper body, there just aren't many kids his age that are that strong in their upper body. So I really didn't think he would get hurt that bad in the upper body."
Ten minutes before Herries' first match in middle school, Kim was white as a ghost. She had to leave the gym because she was afraid something might happen to her son. She came back a few minutes later and watched Zach go three rounds against his opponent. Zach lost the match but eased some family worries. Zach didn't a win a match last season and has been pinned every match this year.
"I work hard and I get pinned," Zach said.
On the mat, Zach has limited mobility of his legs, which makes an easy target for his opponent. But Zach's biggest challenge in the ring is his hearing loss. By rule he has to take his cochlear implant and hearing aids out before every match. So when he wrestles, he is deaf. Shouting instructions to him will do no good. DeWitt said he communicated with Zach before the match and uses eye contact and gestures during the match to help him.
"There's been times in practice and through the season where he's been incredibly frustrated," DeWitt said. "You sympathize with that, but there's a lot of character development there, too. You just got to get up off the mat and get back out there."
In practice, Herries wrestles with most anyone on the team, including the managers. Richard was a little skeptical, at first, on how well Zach would be accepted on the team. But Zach appears to fit in with the Cardinals quite nicely.
"He's pretty funny and cool and ornery," Jessica Bowman said. "He keeps his spirits up. I definitely admire him for that because not everybody does that."
And DeWitt added that wrestling was unique to other sports such as football and basketball because despite having physical limitations, one could still contend.
"The beauty of wrestling is that wrestling is one of the few sports that a kid like Zach can have the opportunity to compete," DeWitt said. "That's what's great about this sport. Anybody, boy, girl or disability can compete."
***
In his two years as a wrestler, Herries' body has become stronger and more flexible. Last year if he was down on his stomach, he couldn't come to his knees and get to his base. He wasn't strong enough in the midsection and his waist to pull his knees under him. But this year, Herries has done that several times. Zach has had countless treatments and doctor visits for his condition since he was born. He has had surgery on his Achilles to improve his mobility, and his father said the family was considering having a series of surgeries on his feet and hamstrings as well.
As Zach and his teammates wait for their names to be called to the scorer's desk at West Junior High in Lawrence, he smiles as he pounds fists with Eudora parents as they pass by him in the front row.
An hour into the tournament, Herries' name is finally called and he is supposed to check in at the scorer's desk. Herries begins the trek to the other side of the gym with his walker in front of him. He scoots right down the half-court line that leads to the scorer's table.
His opponent has already checked in, and Herries' name is called a second time. He pedals faster and reaches the table. A short time later, he turns his walker and begins the trek back across the court. He moves faster now, bunny hopping back to the Eudora bench where he will sit and wait again. His match has been scratched.
Because of his body, Herries wrestles about every other meet. He mostly wrestles freshmen but has also wrestled JV this year. With the season now more than half over, the Herries family is trying to get Zach into a wrestling club for the offseason because he wants to get better and continue wrestling for Eudora, whether he wins or loses.
"God has given him a lot of challenges," his dad said. "He has moments, like we all do, questioning things. But he goes out there and tries. He's a winner just because he goes out there on the mat."
More like this story