Three Cardinals place at Paola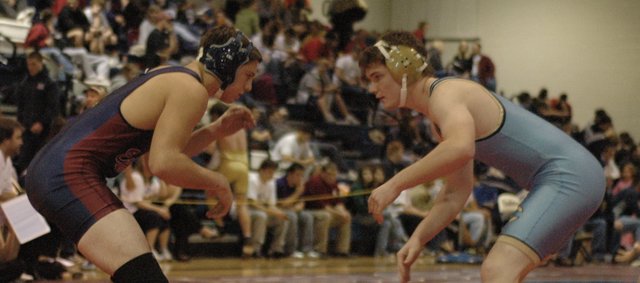 Caleb Clayton-Molby wrestled with a heavy heart inside his 189-pound frame last Saturday.
About a week after his grandfather's passing, Clayton-Molby thought wrestling would help him cope. After a third-place finish on very little practice in the 11-team Paola Invitational, it seems he was right.
"I wasn't going to wrestle him," Eudora coach Bill DeWitt said. "But he thought it would be kind of cathartic."
Two other wrestlers medaled for the squad that looked significantly younger than it usually does. Junior Dalton Hladky took home second-place in the 135-poundweight class, and Darren Nabus placed for the first time in his varsity career, coming in fourth at 130.
"I was pleased with Darren," DeWitt said. "I only took two kids with winning records, so they got better seeds in the bracket. (Darren) lost his first match and had to win three straight to get in the back door. I was pretty pleased with his performance. He stood out because he spent a good portion of the season on JV."
JV wrestlers were the theme Saturday as DeWitt wanted to get some of his younger wrestlers some valuable varsity experience.
"We didn't do too bad," he said. "I don't think I took a single senior. We had a real young lineup. They could see the difference between varsity and JV. They all did some good things."
DeWitt believes the experience garnered from the weekend will make the freshmen and sophomore wrestlers more prepared as the season nears the regional and state tournaments in February.
Next week the squad will look slightly more familiar as the varsity wrestlers who were rested at Paola will return to the lineup Friday for the Concordia Dual Tournament. The tournament is an eight-team event that will feature some of the stiffest competition in the state, DeWitt said.
"It's a huge tournament," he added. "Each wrestler will get to wrestle the seven other wrestlers from the other schools. Several of those teams are state ranked.
"Our goal now is to get everybody healthy. It's especially important now since we have state and regionals coming up."