Builders flock to Eudora church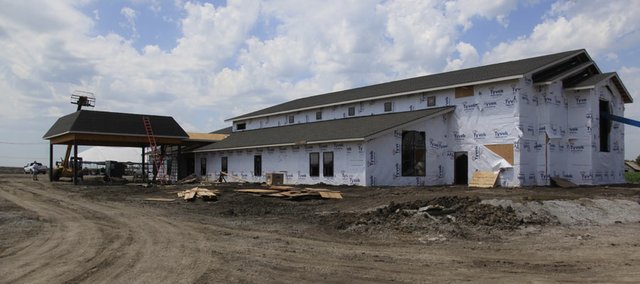 The walls are up and there's a solid roof over the heads of workers constructing the new Eudora Baptist Church.
"It's going great right now," said the Rev. Kevin Wood. The new church is on 20th Street, south of Kansas Highway 10, and west of Church Street.
The construction effort is just about a month old, and already many of the external features and internal workings of the building are in place.
A cross has been hung in the window of the sanctuary, the baptistery is clearly recognizable and the building that was a mere stack of lumber several weeks ago is well on its way to being ready for services on or before a Thanksgiving deadline.
"The electrical wires are pretty much run throughout the building. They're working on the HVAC system or the air conditioning, so it's come a long way," Wood said. "All of that has happened because we have had roughly 350 volunteers from throughout America in over the last five weeks helping us out, and they've done a great job."
Those volunteers are part of a nationwide network of amateur builders who help other Baptist ministries. Baptist Builders for Christ will send nearly 1,000 volunteers to Eudora during the 16-week construction period.
While a lot of work is complete, there is still much more to finish before the church's congregation can put on the finishing touches.
"It looks like we're ahead of schedule, and we should be able to be in the building sometime in November," Wood said. "We will have teams of 20 and 30 and smaller teams that are helping us do some of the more specific things that have to be done."