5 Questions: Eudora Fire Chief discusses fireworks safety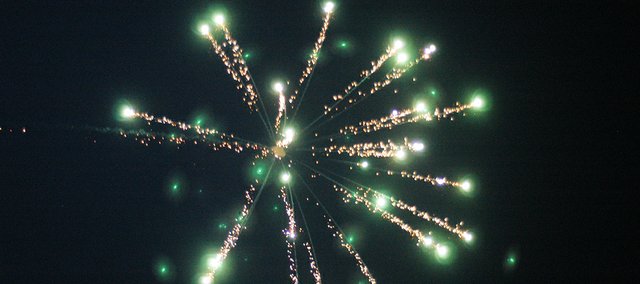 The Eudora Parks and Recreation Department, in cooperation with Eudora USD 491, will present a fireworks display Saturday after dark at in the field between Eudora Middle and High schools. The parking lots at the middle and high schools will be open for those who want to watch the show.
Fireworks are not to be set off in either of the school parking lots
Eudora Fire Chief Randy Ates gave tips on how to have a safe Fourth of July.
Q: What are some general safety tips for using fireworks?
A: Make sure all children using fireworks are not unattended and don't point them at people.
A lot of it is situational awareness and knowing what is around you when you're shooting off fireworks.
Also, if a firework doesn't explode, just leave it alone and don't try to go relight it.
Q: What are some preventative measures people can take?
A: It would be wise to keep a water hose or a bucket of water nearby just in case.
Q: What fireworks are illegal?
A: : I believe it's just bottle rockets
Q: If someone gets burned, what should they do?
A: The first thing is to get it under some cold water so that the burning will stop before it does any tissue damage. And if there is any blistering or bleeding, they need to get it checked by the emergency room.
Q: What hours are people allowed to set off fireworks?
A: Hours for fireworks are from
7 a.m. to 10 p.m. from Wednesday to Friday; and from 7 a.m. to midnight on Saturday
More like this story