Going downtown
275 runners compete in Horsethief Race and Fun Run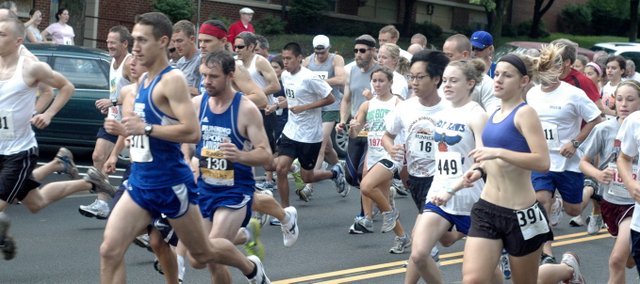 The streets in downtown Eudora were filled Saturday morning by 275 runners who took part in the annual Eudora Horsethief 5K Race and mile Fun Run.
The event, which was usually held at the Eudora cross county course, was moved downtown this year in effort to help promote downtown Eudora and its businesses as well as raise money for the Eudora cross country team. Eudora cross country coach Paul Boone and others helped organize the event.
"This is one event that I believe in in the sense that we want people to come out and have fun and get in better shape and their families to be in better shape and spend time together," Boone said.
There were 237 participants in the 5K run, which started at 7:30 a.m. at 10th and Main Streets. Tucker Weems of Shawnee placed first overall coming in at 15:30. Bret Imgrund of Shawnee finished second and D.J. Hilding of Lawrence finished third with a time of 16:22.
Hilding said he enjoyed running on the smooth pavement.
"It was a good course," Hilding said. "It wasn't too hilly, but you could still feel those rolling hills in there, but it was fast."
Brittney Graff, who graduated from Eudora and is currently on the cross country and track and field teams at Pittsburg State, was the first woman to cross the finish line with a time of 19:43, which was good for 20th overall.
"I always like doing this race and I enjoyed it being downtown," Graff said. "Although the cross country course out there (at the high school) is always interesting and bumpy, it was nice to have the smooth roads, although there were more hills. But I enjoy hills. I try to pass people on hills, so they're good times."
There were about 30 participants in the one-mile Fun Run. Sara Deterding of Eudora came in first at 8:04 and Amy Durkin of Eudora finished second at 8:32.
It was also a family event as many runners had friends and relatives also came out for the event. In all, about 400 people enjoyed the festivities. Two-Much-Fun played music and raffle prizes and awards were given to various winners by age group after the race.
Boone said after expenses, the cross country team made about $2,500 or so. Boone said event could be moved back to the high school course next year, but that the timing was just right to move the event downtown for this year.
"It is for right now," Boone said. "And one of the reasons we like to keep that course at the high school is because we held our high school meet at that same spot. And we've kind of had to take a hiatus with that high school meet for numerous reasons. But we are in a fortunate position to pass the bond issue and significant parts of our course are under construction, and it was just a good timing to bring it down here."
Results from the race will be posted at eudoracrosscountry.com and runlawrence.org.