Volleyball gets early start at camp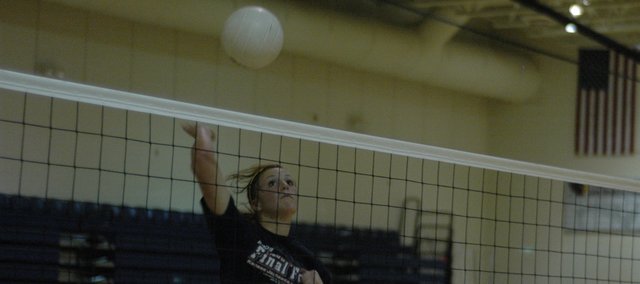 The Eudora volleyball team is wasting little time preparing for the upcoming fall season. At Eudora volleyball camp last week, many players were already at the gym at 6 a.m. to lift weights and condition for an hour or so before the start of camp.
Eudora volleyball coach Jill Stutler said the team was making progress and hoped the hard work pays off in the fall.
"We're getting there," she said. "It takes time. Hopefully they start to understand some of the things that we do in conditioning is paying off to what we're doing in the gym with ball work."
The Cardinals worked on footwork, hitting and passing drills during the week-long camp, and Stutler said the younger players were getting acclimated to EHS volleyball in a hurry.
"This week it's get the new kids acclimated to know our drills and our system," she said. "This year, we're a little farther paced with them knowing the drills. So those freshman coming in know our system a little better than those we've had in the past."
Like many of Eudora's teams in recent years, the Cardinals do not have much height this year either. But Stutler said the Cardinals could make up for that shortcoming in other areas.
"We'll be very defensive oriented again, which is fine," Stutler said. "We spent a lot of time on passing and hustling, so they know that expectation."
Stutler said the team also improved during summer league and the next goal was to develop team chemistry.