USD

491 board welcomes new members; avoids more cuts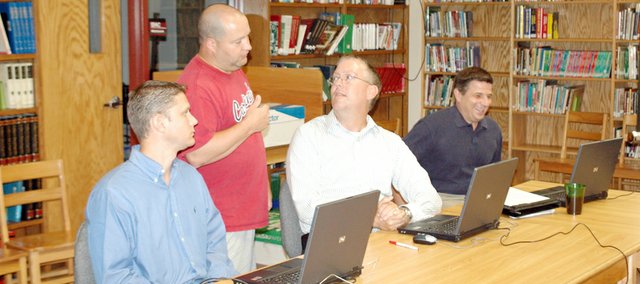 With several years of experience as a teacher and principal in Missouri, Keith Nowland had been to numerous school board meetings. But the newly elected Eudora USD 491 Board of Education member said Thursday's meeting deviated from the norm.
"In 15 years, I have literally been to hundreds of these meetings as an administrator, and this is a whole different thing," Nowland said. "It's a pretty awesome responsibility, and I'm looking forward to it."
Nowland, along with fellow newly elected board members Mike Kelso and Eric Votaw attended their first official meeting last Thursday as part of the board.
Votaw, who had been attending meetings since being elected in April, said there were instances when he wanted to speak up and now looked forward to being able to do so.
Kelso also noted the gravity of the duties that comes with the position.
"You've got taxpayer responsibility, you've got employee responsibility and you've got the students' right to an education," he said.
The three men were welcomed onto the board discussion of the 2009-2010 budget and with news from July 2 that the district faced a $384,000 reduction in state aid.
The district has a proposed mill levy of 67.507. Last year's mill levy was 66.499. The proposed published budget is $9,665,125.
While many districts are facing a need to make more cuts, Eudora avoided doing so because of stimulus funds and $840,000 in new facilities money.
However, both of those revenue sources will be gone in two years.
To date, the district has cut about $276,000 in salaries, plus nearly $145,000 in operational cuts.
"The key to this is that you have to be proactive, but you have to balance that with not being over reactive," Superintendent of Schools Don Grosdidier said. "We've done a good job of that."
The district will talk to state this week to get input on its proposed budget.The final budget will be decided at the Aug. 13 board meeting.
In other actions, the board:
• Received a grant totaling $91,618 from the Kansas Department of Health and Environment Bureau of Waste Management. Of that, $62,218 will be used for the playground surface at Eudora Elementary School and $29,400 will go toward artificial turf at Eudora High School. The grant was the largest of any school district in the state.
• Authorized the issuance of $10.5 million in general obligation bonds.
• Approved the sale of a four-room modular to Fairview USD for $30,000.
More like this story