Where to go from here?
Baseball dreams, aviation career dual loves for Harper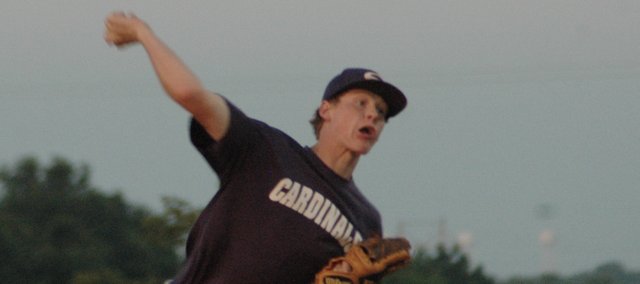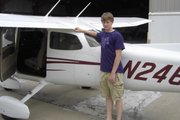 Craig Harper loves baseball. When he talks about the game he excels at, his glowing smile tells just how much he enjoys it.
"Baseball has always kind of been my main sport, and it's just the greatest thing ever," Harper said. "It's a fit for me. It's what I focused on in the summers. It's been a year-round sport for me."
Harper, who graduated from Eudora in May, starred on the EHS baseball team as a pitcher this spring. As Eudora's ace, Harper went 6-1 and had a miniscule 1.38 ERA. He also averaged nearly eight strike outs per seven innings pitched for the Cardinals during their 15-7 season. Harper also was a first team All-Frontier League pick and is pitching well again this summer for Eudora's summer varsity team.
But as much as Harper loves baseball — and he is being recruited by several schools because of his talent and potential — at 18, he is faced with a difficult decision: to continue playing the game he loves in college or strive for another goal that would literally take him to far greater heights than a college or pro baseball diamond. Harper also has dreams of becoming a commercial airline pilot. But those dreams have collided with his love for baseball.
STUDENT OF THE GAME
Harper credits some of his success on the mound to studying his favorite player. Those who have seen Harper pitch or have faced him in the batter's box have undoubtedly seen the No. 23 on the back of his Eudora jersey.
Harper, of course, wears No. 23 because of Kansas City Royals pitcher Zack Greinke.
"I have him on DVR and sometimes I'll just go downstairs and watch it," Harper said. "I'll watch his mechanics, and he's repetitive, so I'll just try to copy everything he did."
In addition to having the same number as Greinke, Harper is also 6-foot-2 and weighs about 180 pounds. And like Greinke, its Harper's array of pitches that leave hitters baffled.
When Harper takes the mound he first looks to establish his fastball. Harper said he's never clocked his fastball, but estimated that it reaches 83 or 85 mph. He then looks to incorporate his breaking ball and off-speed stuff to keep hitters at bay. That formula has worked quite well.
"Craig's been dominant all year long, starting in the spring and early February to where he's at now," Eudora baseball coach Shaun Edmondson said. "He has a lot of confidence, and he exudes that confidence on the mound, and the kids play behind him. His fastball is good, he has a two-seamer and runs a four-seam and has a good changeup and a really good breaking ball. So he has an arsenal of pitches that makes it extremely difficult for teams to compete."
CATCHING CRAIG
Harper can generally blow hitters away with his fastball anywhere in the strike zone. But Harper and Eudora catcher Tyler Beebe are also mindful of changing the pitch sequence so hitters don't sit fastball on the first pitch.
"Sometimes to keep them in check, I'll have him throw a curve ball in the first pitch just to keep them off balance," Beebe said.
Beebe added that when Harper's on the mound, his job is pretty simple.
"It's so easy," Beebe said. "We're both on the same wave lengths. The pitches he throws are real quick. I love catching Craig."
Harper, like he did in the spring, also has shown the ability to pitch out of jams this summer — not that he gets in many. In a home game against Burlington, two walks and a fielder's choice loaded the bases for Burlington in the top of the fourth inning as Eudora had a 2-1 lead. Harper then promptly struck out the next three batters to end the inning with no damage done.
On July 8 against Ottawa's Legion team, Harper struck out 12 and walked just two. He had nine strikeouts in the first four innings. Harper took a tough-luck 4-1 loss, though, as Ottawa scored four runs in the top of the third.
Two bloop hits and an error loaded the bases, and a ball that landed just fair down the left field line cleared the bags for a three-run triple. Ottawa then scored another run on a ball in the dirt. But after Ottawa's four runs, Harper then struck out the next six batters.
"If we get into some trouble, I'll try to step it up a little bit more and try to work a little harder to find my spot," Harper said. "And I put it on myself to help out my team."
TRUSTING TEAMMATE
Teammates say they can trust Harper with anything. Whether it is charting pitches from the dugout before his next start or taking care of the field after the game. His teammates and coaches also trust him on the mound in the biggest games of the year, most notably Eudora's second round regional playoff game in May at Tonganoxie.
For most of the season, the Eudora baseball team played so well it looked like it could contend for the Class 4A state title. Though the Cardinals started the year a little slow and lost three of its first four, they won 14 of their next 17 games, thanks in large part to its talented pitching staff that was led by Harper, and fellow seniors Michael Bricker, Derek Scrimsher and Bryan Dudley. As a team, Eudora posted an impressive 3.34 ERA for the season.
The Cardinals entered regionals on a roll and breezed past rival Baldwin in the first round of the playoffs, setting up the second round contest with Tonganoxie. The Cardinals were poised to bring home the sub-state championship trophy. All that stood in their way was Tonganoxie and Ottawa.
If Eudora could have beat Tonganoxie, it would have had a rematch against Ottawa, who swept Eudora in two close, nine-inning games. But in the second inning against the Chieftains, Eudora's Kyle Swanson tried to score from third on a ball in the dirt and was called out on a close play at the plate. Edmondson went out to argue the call and was thrown out of the game.
Tonganoxie then scored three unearned runs against Harper in the next frame and eventually ended Eudora's season with a 4-1 loss. Harper pitched a complete game and struck out seven batters in the contest. Two months later, Edmondson said he still blames himself for the defeat.
"I totally wiped that game out, really," Edmondson said.
While Eudora fell two wins short of making it to the state tournament, Harper and the summer team are preparing for a deep run in the postseason as the zone and state tournaments near. But as the summer season is coming to an end, Harper's baseball career might be as well.
CHARTING A NEW COURSE?
As much as he loves to play baseball, he also loves airplanes and wants to become a commercial airline pilot.
"I've never flown, but it's always been something I've wanted to do," Harper said.
In his heart, he wants to do both. But he also knows that he can't play baseball and fly airplanes at the same time. As of now, Harper is still planning to study aviation through Kansas State University in Salina when school begins in August.
"I'll be taking plane trigonometry the first semester, and I'll have ground school, and I'll be flying a couple hours every Monday, Wednesday and Friday," Harper said. "So I'll be flying right when I get there. I'll have my private pilot's license by the time I get back from Christmas break."
Harper said he would log about 250 flying hours during his four years in college and added that even more training hours await.
"Some commercial companies require 400 or 500 hours, so I'll have to go do some more flying after college," he said.
Harper said he was at peace with his decision to essentially trade in his ball, glove, arsenal of pitches and tremendous potential on the mound to sit in a cockpit thousands of feet above the ground.
"Ever since I was a little kid I wanted to be a pilot. I could go and play baseball," Harper said.
He has been recruited by several junior colleges, including Coffeyville, Central Christian, Hutchinson and others. Edmondson said with a little seasoning at the junior college level Harper could develop into a solid Division I pitcher.
"He's been absolutely lights out," Edmondson said. "He's going to continue to pitch and do what he does all summer long. And who knows? He may change his mind."
And Harper admitted he ultimately could change his mind someday — any day.
"There's still a chance, especially after tonight," Harper said as he stood on the third base line after the Ottawa game on July 8 at Eudora. "I want to keep pitching. I still think about wanting to play college baseball, but I don't know."
His love of baseball will continue as will his love for aviation. Harper knows that whatever path he chooses won't be easy, as it takes total dedication to play college baseball or become a pilot.
Maybe he'll pick baseball. Maybe he'll pick aviation. Maybe he'll eventually do both. But it's safe to say that whatever path he chooses in life, Harper will surely succeed wherever he lands.