Youngsters impress at soccer camp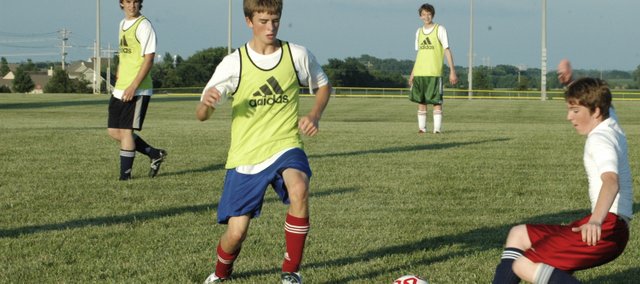 Several new faces took to the pitch last week at the Eudora High soccer camp, and 14 of them were freshman.
Eudora soccer coach Gunar Harmon said he was pleased with the team's early progress.
"A lot of the fresh faces look to be promising players," he said.
Harmon added that while having a team that is so young now could be a somewhat of a disadvantage early, it could be a plus later on.
"That's one of the reasons I like coaching high school," Harmon said. "You never know what you are going to get. One year it's a bountiful harvest, and the next year you're wondering what you've got. But I'm enjoying this. It bodes well for the future."
Harmon divided the group up into four teams at camp and had them play competitively against each other. Eudora senior defender Ryan Pennington said he enjoyed helping the newcomers during camp.
"It's fun because we've got to teach the new kids how to communicate better, how to touch better and all that," Pennington said.
Noticeably absent from the camp was senior Matt Jump. Jump was overseas playing in the Gothia Cup in Sweden. With the Eudora soccer program still developing, Harmon added that the more exposure his players have to the sport, the better the Eudora soccer team would be.
"This is all trying to get touches," Harmon said of camp. "As I told them today any opportunity they can touch a ball is an opportunity to learn, whether it's just getting the ball out of the bag and onto the field or moving from one thing to another. But take the opportunity to make something out of touching the ball and we'll get better for it."