4-H members prepare for county fair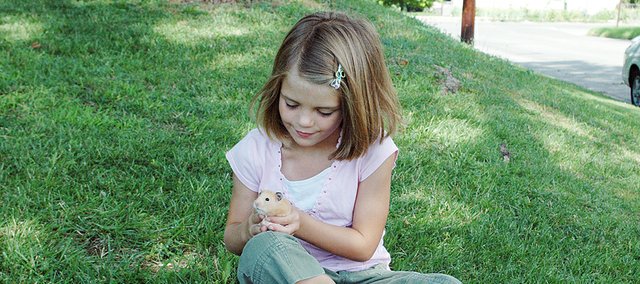 Despite the fact that Saturday will be the first time 7-year-old Carlee Norris will participate in the Douglas County 4-H pet show, the idea of talking with adult judges about her hamster, Pip, doesn't faze her.
"I'm not very nervous," Norris said.
Norris became interested in the Eudora 4-H Club after watching her older sister and brother show pets.
"I was always watching them, and it seemed like a pretty cool thing to do," she said.
Carlee's relaxed demeanor while making presentations is a result of her participation in 4-H, said her mother, Anissa Norris.
"It's a great opportunity when they sit down with the judges for them to speak with adults," Anissa Norris said. "It helps with their social skills and leadership skills."
Matthew Kelso, who has been part of 4-H for nine years and the pet show for two years, will be showing an ornate box turtle at the show.
He also said he often didn't experience any nerves during the show, but when he did it was because he wanted to excel.
"I do find myself getting nervous from time to time, just because I want to make the best better and do the best that I can with the information that I have," Kelso said.
Carlee also will participate in the cooking competition, which will take place in the first week of August, and she hopes to take part in other 4-H endeavors as she gets older.
"I'm looking forward to taking pictures, and I'll keep showing Pip," she said.
The pet show, which is at 9 a.m. Saturday in building 21S on the Douglas County Fairgrounds, is one of the 4-H shows that occur early at the Douglas County Fair.
Also coming up will be the Fashion Revue Judging at 8:30 a.m. Monday in building 21N and a Public Fashion show at 7 p.m. Tuesday at CPA Park, which will include participants from as many as six Eudora families.
Kelso encouraged people to attend not only the typical county fair shows, but also the pet shows.
"The kids who are in the pet show do not see the people at their show like someone in the swine or beef project would, so it would be great to have a nice crowd there to support us 4-Hers," he said.
There is no cost to attend the shows.