Cardinals soar into state
Baseball tops Bishop-Ward, 8-4, to earn bid to state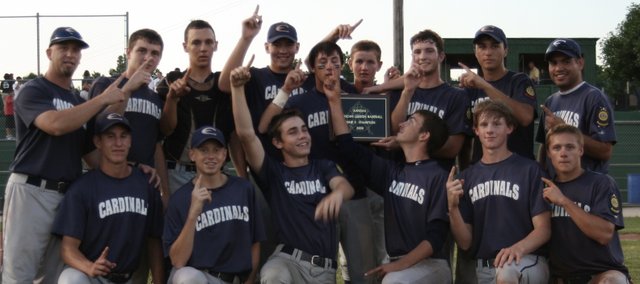 It took an extra inning, but it was worth the wait.
The Eudora Cardinals Legion team defeated Bishop-Ward, 8-4, in eight innings in the championship game of the zone tournament Saturday in Kansas City to advance to this week's American Legion AA State Tournament in Sabetha.
"It was pretty exciting," Eudora baseball coach Shaun Edmondson said. "I think all of us coaches and players and parents were all really excited about winning that tournament. That tournament was stacked."
Eudora entered zone play as the No. 3 seed in the tournament, and the Cardinals were the only team to go undefeated in the double elimination tournament. Eudora knocked off Silver Lake, 11-3, in the opening round and Bishop-Ward, 8-0, in the second round to earn a third round bye.
Eudora then met Bishop-Ward again in the final and scored four runs in the top off the eighth, thanks in part to a dropped third strike that allowed Evan Cleveland to reach first base to start the inning. Cleveland then stole second, and Eudora soon tallied four runs to take control of the game late.
Derek Scrimsher entered the game in the fifth and pitched the rest of the way to get the win. By defeating Silver Lake and Bishop-Ward, Eudora ousted two teams that have won numerous high school championships.
"You're in a tournament where two teams in your bracket have won a combined 30-something state championships, and Eudora hasn't ever won one, so obviously the odds were stacked against us a little bit, but I think we competed extremely hard and I think the best team won," Edmondson said.
Eudora (20-12) has played a tough schedule and also lost a few games to rainouts. Eudora's team also looks a bit different than its high school team did, as there are several new pieces including third baseman David Pierce, first baseman Jared Ireland and second baseman Brandon Elliott.
"Our corner infield this summer were two freshman, and you sprinkle in some good young players, and we've got a lot of good veteran players, so we kind of have a perfect mix right now as far as building for the future and able to win right now," Edmondson said. "And we coach the summer the same way we do in the spring is we try to develop it and when the postseason rolls around we try to win games and that's what we've been able to do."
This is only the second year that Eudora has played Legion baseball, and it is now the second year in a row that Eudora has made the state tournament. Eudora will play Zone I winner Doniphan County in the opening round of the double elimination tournament at 1 p.m. Thursday at Somerset Park in Sabetha.
Edmondson said Bryan Dudley would probably start the first game for Eudora.
"There's a lot more preparation that goes into the postseason," Edmondson said. "In the postseason you know who you got, and you're a lot more proactive as far scouting reports and whatnot. I've got scouts and feelers out right now trying to get a scouting report on the team we play in the first round."
Win or lose, Eudora will play again Friday. And should Eudora advance far enough, the team could play in the championship game on Monday.
More like this story