Dudley to play baseball at Washburn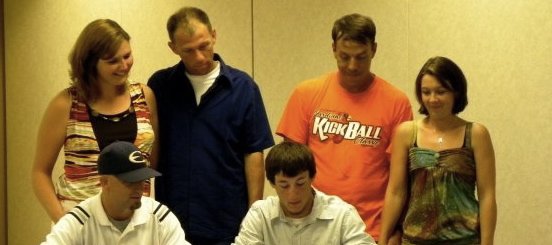 Bryan Dudley is a dreamer. And his dream of playing college baseball has come true.
Dudley, who graduated from Eudora in May, recently signed a letter of intent to play college baseball at Washburn University in Topeka.
"I've always loved baseball and it's just a joy to go play in college at the next level," Dudley said. "They told me I was going to be throwing next year, so I've got to get ready for them. I'm just using that as a drive to get better and play next year. I'm excited."
It's not immediately clear whether Dudley will be a starter, reliever or closer next year for the Ichabods. But Dudley said he would be ready to perform wherever the team needs him.
"Whatever they need me, I'll go do my role," Dudley said.
The left-handed Dudley filled a variety of roles for the Cardinals this spring, as he logged innings as a starter, reliever and closer. Dudley also played center field.
Dudley went 1-1 in 21 1/3 innings pitched this spring and had a 3.80 ERA. Dudley gave up just nine walks and had 27 strikeouts. He also had six saves.
At the plate, Dudley batted just .250, but had an impressive .444 OBP. Dudley also made several dazzling plays in center and made just one error in 53 chances. Dudley was an honorable mention all-league pick as an outfielder.
Eudora baseball coach Shaun Edmondson said that Dudley's work ethic was a major contributor to his success on the diamond.
"Since the time that I've met him, he's been a tremendous hard worker and he's one of those kids who you root for to have success," Edmondson said. "And I think one of the keys for him is that he has a lot of confidence in himself. I mean, he's not arrogant or anything, but he believes in his abilities and I think that has a lot to do with why he's getting the opportunity to play at a good Division II baseball team. He's earned it."
Edmondson, who also coached and played in college, offered some advice to those who share those same dreams as Dudley.
"The biggest thing is your competition and your teammates are all really good players," Edmondson said. "You're getting the best players from every other team that is now your competition. So you have to go in there with the work ethic and desire to continue be the best player that you can be. And I think he has that."
Dudley, who also is playing for Eudora's summer Legion team, isn't done dreaming yet. He would like to continue playing baseball after college as well.
"It's always been my sport," Dudley said. "I've played since I was 5 or 6 years old. I love the game. That's all I do is eat, sleep and breathe baseball. And this is a big dream come true to play college ball, and hopefully I'll keep working to the next level up, then to who knows where?"