Summer weights give Cards early start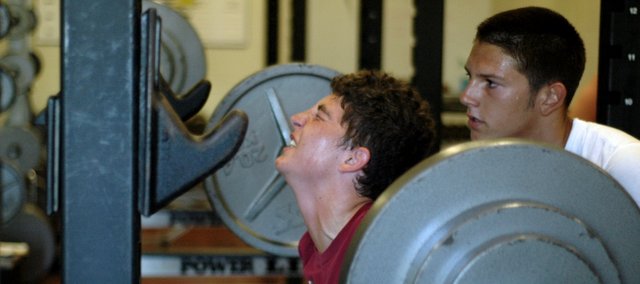 Several members of the Eudora football team are getting an early start on preparing for the upcoming season.
Eudora football coach Gregg Webb said there are usually about 10 players who are at the weight room every day at 6 a.m. to lift weights.
"A couple of kids who have really showed great improvement this year in the weight room, because they've come every day, are Dylan Litherland and Chris Patterson. He (Patterson) has really gotten serious about the weight room and they have shown vast improvements of what they were. And there are others as well."
Litherland, junior, said he made a point to attend the weight sessions every day because he wants to keep his job at left tackle.
"It makes me stronger and I'm trying to hold my spot on the line this year," Litherland said.
The weight room is open for six hours during the day, and this week the football players were maxing out on several lifts. Junior lineman Caleb Clayton-Molby set a new personal record by squatting 365 pounds Monday morning.
Webb said that he would like to see more kids attend the weight lifting sessions, but acknowledged that can be difficult because many kids are busy during the summer months with jobs and many of them also play other sports.
"I know some of them have three sports that they are trying to deal with," Webb said. "And now the KSHSAA rule has opened it up to everything, they're playing baseball, four, five or six days a week, and they're playing basketball and some of them have jobs... So with that combination, trying to get them in there would be the perfect scenario, but we don't have that."
After this week, the Cardinals will take a week off from weight training and then will be back for football conditioning. Eudora's first day of practice is Aug. 17.