EHS

track strong at state meet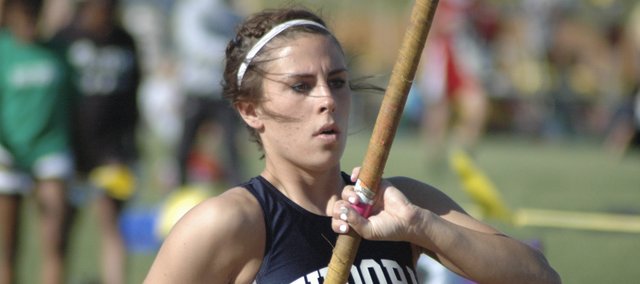 Photo Gallery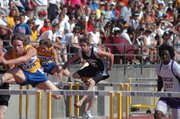 Cardinals strong at state
The Eudora Cardinals qualified athletes in eight events at the state track meet in Wichita. The Cardinals placed in the top 15 in each of their events.
On the biggest stage of the year – the 4A state track meet in Wichita's Cessna Stadium – the Eudora Cardinals gave a solid showing.
In the eight events that the Eudora athletes qualified for, they all placed in the top 15 at state.
"I think we did about as well as we could have," track coach Phil Katzenmeier said. "We certainly did not have any disappointments."
Senior Allison Hoover placed the highest of all the Cardinals with a third-place medal in pole vault. It was her first state medal.
"We're very happy that she got third and got a medal. She actually jumped 10-6 last year and it was just an incredible field and got ninth. So she jumped 10-feet this year and got third, so it was just kind of a different field. But she deserved a medal."
The girls 4x100-meter relay team of seniors Alisha Wingebach, Kendal Abel, Tianna Dunnaway and Rachel Pyle finished sixth with a time of 51.47. It was the fourth year in a row that the relay team made it to state. It also was the third year in a row that the relay team medaled at state. When the girls were freshman, they missed out on the state finals by one one-hundredth of a second.
"I think overall they may feel a little disappointment because their fastest year was their sophomore year. And so the last couple years they haven't ran as fast as that year, but there's a lot of circumstances that contributed to that. They've been great. We will really miss them."
Wingebach also finished 10th in the girls 100-meter dash with a time of 13.17. Shea Lounsbury broke her own school record in the triple jump with a 12th place jump of 33-10 1/4.
"She originally set the school record at our meet a month ago, and there was a huge tailwind so that benefited her that day," Katzenmeier said. "But since then, she's jumped 33-9 and 33-10, so it wasn't a fluke. So she's got to be pleased with the way she's jumped."
The girls 3,200 relay team of JoAnna Male, Hannah Katzenmeier, Jamie Orth and Bre Miller finished 15th with a time of 11.14.76. The girlsteam finished in 22nd overall with eight points.
For the boys, junior Justin Ballock and senior Cody Carlson were the two state qualifiers for Eudora. Ballock placed sixth in the high hurdles with a time of 15.54 and seventh in the 300-hurdles with a time of 41.22. It was the third year in a row that Ballock has qualified for the state meet.
"This was the first time he's medaled in both hurdle events," Katzenmeier said. "He did medal his freshman year when he got second in the 300-hurdles, and he's running just as fast or faster now."
Carlson finished 10th in shot put with a throw of 44-7 1/4. The boys finished 39th as a team and scored three team points.
More like this story