5 Questions: Eudora Public Library kicks off summer reading program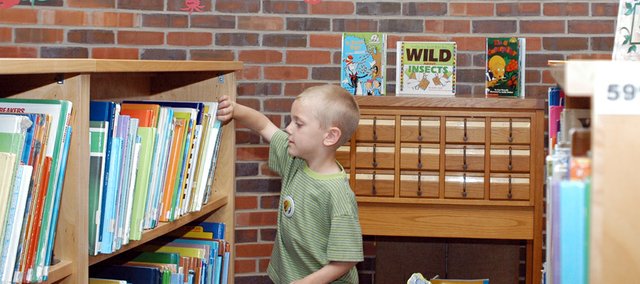 The Eudora Public Library. 14 E. 9th Street, began its summer reading program Monday.
Children's librarian Mindy Frehe spoke about what the library has in store for this year's program.
The library is open from 9 a.m. to 8 p.m. Mondays and Wednesdays; from 9 a.m. to 6 p.m. Tuesdays and Thursdays; from 9 a.m. to 5 p.m. Fridays; and from 9 a.m. to 1 p.m. Saturdays.
Call the library at 542-2496 for more information.
The theme for this year is "Be Creative @ Your Library."
Q: What age groups can participate in the summer reading program ?
A: Participants are in four groups: Pre-K (3 years old) to second grade; third to sixth grade; seventh to 12th grade; and adults.
Q: What are the reading goals for each group?
A: Pre-K to second-graders must read or have 20 books read to them; third- to sixth-graders must read for about 630 minutes; seventh- to 12th-graders must read 900 pages. Those who complete the program will get to go to a pool party on July 31.
Q: Why should someone be involved in the program, regardless of age?
A: It's a benefit to kids and adults to be reading, but the activities also help build the community and make it stronger.
Q: What kind of activities will you have?
A: We have our entertainer Lana Maree Pratt for our kick-off performance Friday at 10 a.m. in the Eudora EMS library. The activities vary by age level, though.
Q: How can people find out more about the program?
A: Call the library at 542-2496 for more information.