Baseball team showed it could contend for state title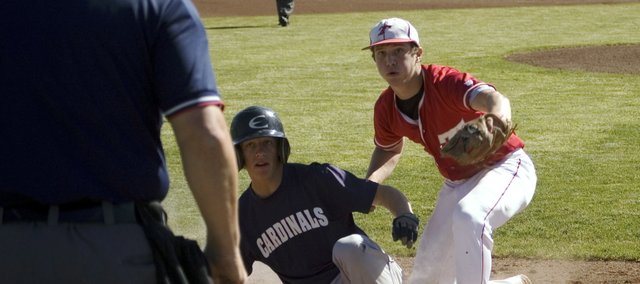 The 2009 Eudora baseball team fell five wins short of its goal of winning the Class 4A baseball state championship. But the team showed that it was one of the best teams around, and had a call or two gone its way, the Cardinals possibly could have achieved their stated goal.
"I definitely think we could have made a run at the title had we gotten the opportunity," Eudora baseball coach Shaun Edmondson said. "But for whatever reason it wasn't in the cards for us this year."
Eudora played its best baseball of the season at the end, and cruised into regionals with a 14-6 record. Eudora began the year 1-3, before the Cardinals won 14 of their last 17 games. Three losses came in heartbreaking fashion twice against Ottawa and then against Tonganoxie in the second round of regionals. Ironically, two of the three losses involved a controversial play at the plate.
In a doubleheader against Ottawa, Eudora's Bryan Kindle tried to score from second base on a wild pitch but was called out at home on a close play that would have been the winning run. Eudora lost the game by one run in nine innings and lost the second game of the doubleheader against Ottawa also in nine innings. And against Tonganoxie, Kyle Swanson tried to score from third on a ball in the dirt and was called out at the plate in the second inning. Edmondson went out to argue the call and was thrown out of the game.
Tonganoxie then scored three runs in the next frame and ended the Cardinals' season with a 4-1 loss. If Eudora (15-7) had beaten Tonganoxie, the Cardinals would have had a rematch against Ottawa for a berth in the state tournament. Ottawa beat Tonganoxie in the regional final and took third last weekend at state.
"I thought we played pretty solid baseball toward the end," Edmondson said. "And I think we were geared to make a run in the postseason, but we came up a little short."
Eudora was led this season by its seniors, and four of them were the Cardinals top pitchers. Craig Harper finished the year 6-1 and had a 1.38 ERA. Harper averaged almost eight strikeouts per seven innings pitched and was a first team all-league selection. Michael Bricker went 5-1 and had a 3.89 ERA and was a third team all-league pick. Derek Scrimsher went 3-2 and had a 2.17 ERA. Scrimsher also had a no-hitter through 6 1/3 innings against De Soto. Bryan Dudley the team's closer and staring center fielder led the state in saves with six and was an honorable mention all-league pick. As a team, Eudora had an impressive 3.34 ERA.
Offensively, senior first baseman Bryan Kindle, who missed all of last year with an arm injury, returned and gave the Cardinals a solid glove at first and a potent bat in the lineup. Kindle batted .400, led the team in hits (28) home runs (2) and RBIs (19). Kindle was also a second-team pick.
"The senior group that is gone now, they'll forever be missed because of what they brought to our program and to our team," Edmondson said.
While Eudora will lose a large senior class, the Cardinals have several returning players who saw significant playing time this year in Evan Cleveland, Drew Noble, Coulter Vestal, Tyler Beebe and Joel Lauer.
Edmondson added the team could be equally strong next year.
"I definitely think that they'll be motivated to get better in the summer," Edmondson said. "That's how you win postseason games in the spring is doing things in the summer, doing things in the fall and in the winter."