Gymnastics perfect fit for Eudora grad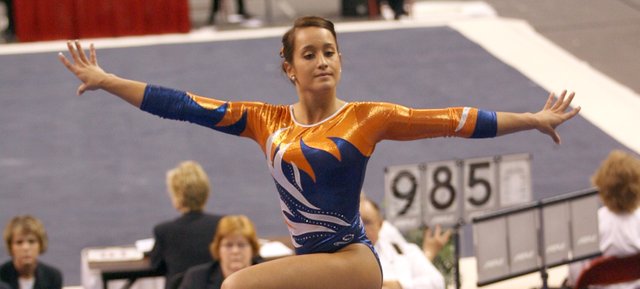 Melissa Fernandez has made the most of her first two years competing on the University of Illinois gymnastics team.
This year as a sophomore, Fernandez, a Eudora High grad, was a member of the first University of Illinois gymnastics team to make it to nationals.
"That was definitely our team goal to make it to nationals because we have never as a team in school history made it to nationals before, and being there was amazing," Fernandez said. "It was overwhelming, but it was so much fun and so exciting."
She was also the first in school history to advance to the NCAA Championships when she scored a 9.900. While at the competition, Fernandez competed against two ex-Olympians.
"I was pretty nervous about it because I was going to be competing by myself and I knew there were going to be a bunch of ex-Olympians there," Fernandez said. "And these were the top girls in the country."
Fernandez advanced to the final round by tying for first. By then her nerves had subsided, she said. Fernandez went on to finish the competition in seventh-place overall.
"I just got up on the beam and did what I had been doing all season," Fernandez said.
This year, Fernandez scored five first-place finishes on the balance beam and also became the first gymnast in school history to be named first-team All-American on the balance beam. She also was named the team's Most Improved Gymnast and Most Consistent Beam Performer and made the Big Ten's all-academic team.
Illinois gymnastics coach Bob Starkell said Fernandez has shown steady improvement her first two seasons, but could be even better next year now that she is one of the veterans on the squad.
"Becoming an upperclassmen, Melissa will definitely be looked upon to contribute more than just her own gymnastics contributions," Starkell said. "Becoming our first first-team All-American at Illinois, her teammates will look to her as a key leader. Melissa is a quiet leader working on being more vocal, but leading by example will be huge."
Fernandez is also an example of how perseverance can pay off. Fernandez trained at KGDC in Olathe, and at one time nearly gave up gymnastics. Fernandez offered some advice for those who want to become gymnasts.
"I would definitely tell them to never give up on your dreams and push through it every day and work your hardest and give 110 percent," Fernandez said. "Even on the rough days, you just have to give everything you have because I was there. There was a point in middle school where I quit for four months because I didn't want to do it anymore because it was too hard.
"But obviously the hard work paid off. And I would never change my decision for anything. Gymnastics is a tough sport, but the benefits are great."