Students, teachers learning at Camp Invention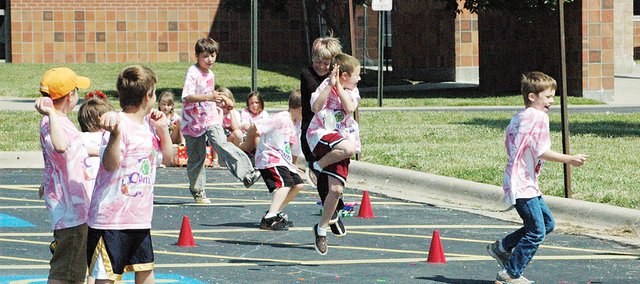 It's a lot more fun being a Viking when you work as a team with your fellow Vikings.
This nontraditionally taught lesson was one of several that 118 students learned during last week's Camp Invention at the Eudora Middle School.
Students entering first through sixth grade were eligible to attend the program, which provided students with the opportunity to learn about scientific principles through invention. The camp featured activities that focused on creativity, problem solving and teamwork for students grouped by grade levels who came from Eudora, Lawrence, De Soto and other area cities.
During the week, students took part in a Viking treasure hunt that took them from Newfoundland to Norway and edified their ability to work together when solving problems.
They also learned about the science of super heroes; took land sleds they built through a timed obstacle course; and invented complicated machines
The camp director was Barbara Hartwell, who teaches gifted students in the Eudora School District. It also is staffed by teachers, as well as high school and middle school students.
Students Kolten Unrein and Drew Bearden both said that though Camp Invention was like school, it definitely was better than school.
Staffers seemed to be having as much fun as the students, and also learning just as much.
Seventh-grader Hannah Thevarajoo attended the camp last year and was a junior counselor this year. She said the fact that she couldn't provide answers for students made her be as innovative as she was last year.
"It's fun for me to help them learn," she said. "You can still be creative even if you're a counselor because you have to help them with ideas, but you can't tell them the answers. You have to budge them in the right direction."
First- and second-grade teacher Adriane Lang, who taught the "I can invent" module, was in her first year of teaching at the camp. She said she enjoyed seeing the students' sense of wonderment and that the nontraditional lessons might have a place in her classroom.
"It's interesting to see what the kids can do when you let them get messy and spread out," Lang said. "You wouldn't see this in a traditional classroom, but you can see that there's value in it and sometimes teacher can forget that."