Making the jump
EHS

senior to play in Gothia Cup Soccer Tourney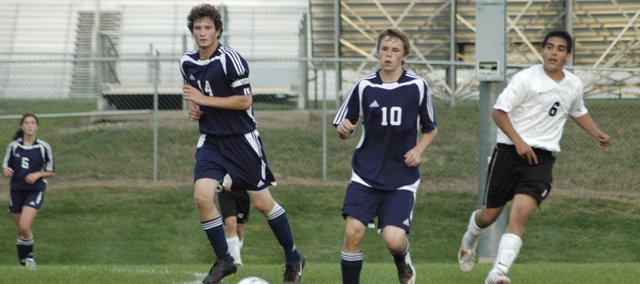 Eudora senior Matt Jump has starred on the Eudora soccer team the past two years, and now he is getting the opportunity to play in the Gothia Cup International Soccer Tournament in Gothenburg, Sweden.
Jump will play for 365 Sports USA's U-19 team. Jump will leave July 9 and go to Raleigh, N.C. for three days of boot camp training before heading overseas. The Gothia Cup is the world's largest youth soccer tournament and has several age groups and about 30,000 participating athletes.
"I'm really excited, but I'm also really nervous," Jump said.
Jump was a second team all-state performer last year, and Eudora soccer coach Gunar Harmon wrote a letter of recommendation for him, and he was accepted.
"It's a very good opportunity for him," Harmon said. "I grew up in Germany, and playing teams in the international tournament is a great thing from my experience. And this will really go a long way to opening his eyes to what soccer is. He's a very dedicated soccer player and he deserves to have this experience."
The soccer tournament begins July 13 with the preliminary rounds. Each team will play a minimum of four matches and could play more should the team advance. The Gothia Cup finals will be played July 18, and Jump will return to the states July 19.
Jump has never been out of the country and said he was looking forward to going sightseeing and experiencing a new culture.
"On the Internet, I've seen a lot of pictures of it and it looked really nice," he said. "I can't wait to get some pictures and bring them back and show my family and friends."
Jump said while overseas, he wanted to see how well he competes against elite soccer players. He also wants to learn a few pointers that he could bring back to the Eudora soccer team.
"I'm really excited to see the scope of it and then to know where I stand skill-wise," Jump said. "And a lot of our team needs help in certain things, and I'm hoping to learn a lot, and I could teach something to our younger players."
Harmon added that while Jump is a soft-spoken kid, he wouldn't mind if Jump came back a little more vocal.
"He's a nice, quiet, reserved kid," Harmon said. "He's not the glamour senior who's going to draw attention to himself-type. And that's kind of why I think this experience for him, in a personal way, is that he'll get to see and experience something entirely different about the game of soccer, which he so enjoys. That's a lifetime of memories. He'll treasure that."
Jump is still in need of sponsors for the trip to help with expenses. If you would like to donate, contact Shawnee Jump at 785-218-9575.