Douglas County restructures emergency medical services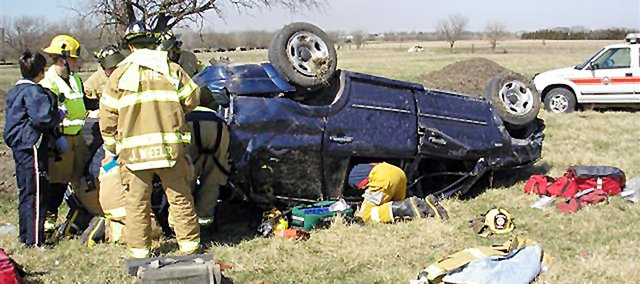 Firefighters and emergency medical technicians routinely put their lives on the line to help others. So, it comes as no surprise that Eudora Fire Chief Randy Ates would see only positives in a new agreement that increases EMS coverage for the Eudora area.
Douglas County Commissioners signed an agreement June 15 that redistributed one of two Eudora EMS vehicles and related supplies to Eudora Township Fire Department.
Ates said the restructuring would be a matter of addition by subtraction.
"Even though we're losing a truck and supplies, it's for a good reason because other areas are gaining," Ates said.
Assistant County Administrator Pam Madl said Eudora Township Fire Chief Mike Baxter, who also is an emergency medical technician, had expressed interest in developing a cadre of first responders.
Once Baxter had enough people trained, the redistribution agreement was signed.
Madl said spreading out the supplies and first responders was vital and would allow for better coverage of the area.
"They're the first people on the scene and can do a lot and they can help save a life in the period of time it takes an ambulance to arrive on the scene," she said. "So the more first responders throughout the county, the better."
The Eudora Fire Department entered into a joint venture with Douglas County in the in 2007. In 2008, the EFD took over management of EMS in Eudora.
Eudora had also covered the north part of Palmyra Township, which now is covered by the recently established the Baldwin EMS.
The restructuring means that the city now will have a fire truck as well as an EMS vehicle on the scene of EMS calls, which Ates said could be a good thing because it would keep a whole EMS shift together.